PRIDE IS A BETTER MOTIVATOR THAN FEAR
In his book Wooden, with Steve Jamison, Coach expanded on this idea:
Pride is a better motivator than fear. I never wanted to teach through fear, punishment or intimidation.
Fear may work in the short term to get people to do something, but over the long run, I believe personal pride is a much greater motivator. It produces far better results that last for a much longer time.
Remember, pride comes when you give respect.
A leader must be able to maintain discipline and also maintain respect, and do so while instilling pride, not fear.
In his book Leadership Gameplan, Coach discussed how to do both:
Dictator - style leaders rule by fear and force, humiliation and intimidation. These are the same "leadership" tools used by a prison guard.
You achieve better results with talented people when you treat them like human beings.
I was often critical of players, but I tried hard to avoid personal attacks, embarrassment or demeaning comments, which would make them less likely to take my criticism to heart.
Doug McIntosh, a former player and a member of the 1964 and 1966 national championship teams, described Coach this way:
He was strict, but there was no sense of fear of him by players. We knew there was nothing personal in his criticism or comments.
What he did was always for the common good and welfare of the team. We all knew that and wanted the same. He taught that discipline is the mark of a good team.
Coach believed that: The most powerful motivator is a compliment from someone you respect. It creates pride.

In his book Wooden on Leadership, Coach expanded on the idea:
Positive words become meaningless when offered habitually and excessively. I avoided the phrase, "that's great" instead I would say "good, very good, getting better" I kept in mind that how I conveyed information was often as important as the information itself. My tone was measured and my demeanor controlled.
In the book Leadership Gameplan, former player Bill Walton described Coach Wooden's style:
Coach Wooden expected you to be really good. Being really good was normal. He didn't think we needed to be complimented for doing what was normal.
However, as players, we knew we were rising to a greater level when we'd see a wink, a nod and a little smile on his face.
Then he would blow his whistle and say, "Now do it again,. faster."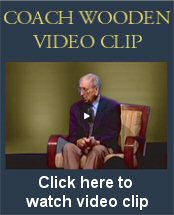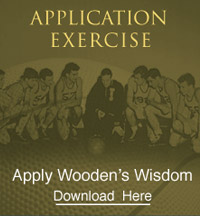 COACH'S
Favorite Poetry
AND PROSE
Plant A Tree
He who plants a tree,-
Plants a hope;
Rootlets up through fibers blindly grope;
Leaves unfold into horizons free.
So man's life must climb
From the clods of time
Unto heavens sublime.
Canst thou prophesy, thou little tree,
What the glory of thy boughs shall be?

He who plants a tree,-
Plants a joy;
Plants a comfort that will never cloy;
Every day a fresh reality,
Beautiful and strong,
To whose shelter throng
Creatures blithe with song.
If thou couldst but know, thou happy tree,
Of the bliss that shall inhabit thee!

He who plants a tree,–
He plants peace;
Under its green curtains jargons cease.
Leaf and zephyr murmur soothingly;
Shadows soft with sleep
Down tired eyelids creep,
Balm of slumber deep.
Never hast thou dreamed, thou blessed tree,
Of the benediction thou shalt be.

He who plants a tree,–
He plants youth;
Vigor won for centuries in sooth;
Life of time, that hints eternity!
Boughs their strength uprear;
New shoots, every year,
On old growths appear;
Thou shalt teach the ages, sturdy tree,
Youth of soul is immortality.

He who plants a tree,–
He plants love;
Tents of coolness spreading out above
Wayfarers he may not live to see.
Gifts that grow are best;
Hands that bless are blest;
Plant! life does the rest!
Heaven and earth help him who plants a tree,
And his work its own reward shall be.



Lucy Larcom