The Coach as a Leader - Part 1 (Art of Leadership)
When Coach Wooden addressed the UCLA Coaches Development Program in 2002 regarding his views on leadership, he prefaced his response by stating that there were many different types of leadership styles that have had successful results.
There are so many different types of leadership. We're all different and we get results in different ways. I don't think that Paul Brown had his success the same way that Vince Lombardi did. I don't think that Walter Alston had it the same way that Tom Lasorda did. And it could go on and on. There are different types. You have to be yourself. If you try to be something else; well, that's cheating when you try to be something else. You just have to be yourself, not try to be something you're not. I wouldn't want anyone to feel that anything that I say is right and something someone else says is wrong because that's just not true. There's so many different ways.
Over forty years ago I picked up this little booklet.
I found it very, very helpful to me in so many ways; The Art of Living....There's one section in here on leadership.
Coach continued by sharing some ideas from Wilford Peterson's essay on the Art of Leadership from his book The Art of Living.
Simply and plainly defined, a leader is man who has followers. The leader deserves to have followers. He has earned recognition. Authority alone is no longer enough to command respect.
The leader is a servant. As the Master of Men expressed it "And whosoever would be chief among you, let him be your servant."
The leader sees through the eyes of his followers.
The leader does not say, "Get going!" Instead he says, "Let's go!" And leads the way. He does not walk behind with a whip; he is out in front with a banner.
The leader assumes his followers are working with him, not for him. He sees that they share in the rewards. He glorifies the team spirit.
The leader is a man builder. The more men he can build, the stronger the organization will be, himself included.
The leader has faith in people. He believes in them, trusts them, and thus draws out the best in them.
The leader uses his heart as well as his head. After he has looked at the facts with his head he lets his heart take a look, too. He is a friend.
The leader plans and sets things in motion. He is a man of action as well as a man of thought.
The leader has a sense of humor. He is not a stuffed shirt. He can laugh at himself. He has a humble spirit.
The leader can be led. He is not interested in having his own way, but in finding the best way. He has an open mind.
The leader keeps his eyes on high goals. He strives to make the efforts of his followers and himself contribute to the enrichment of personality, the achievement of more abundant living for all, and the improvement of all.
In his book Practical Modern Basketball, Coach Wooden summarized his thoughts this way.
The coach who makes a sincere and determined effort to follow the leadership ideas and ideals that I have taken from the essay by Mr. Peterson is certain to improve his leadership qualifications and enhance the possibility of a successful team.
A team without leadership is like a ship without a rudder that is certain to wander aimlessly and will probably end up going around in circles and getting nowhere.
Of course, the coach must know the game and know his players to be able to provide proper leadership, but he must realize, welcome, and assume the full responsibility.
Yours in coaching,
Craig Impelman
www.woodenswisdom.com

Twitter: @woodenswisdom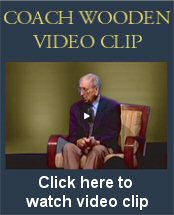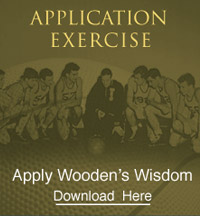 COACH'S
Favorite Poetry
AND PROSE


A THOUGHT FOR THOSE DAYS

Get the most from each hour...
Each day...
And each age of your life......
Then you can look forward with confidence...
And back without regrets......
Be yourself...
But be your best self...
Dare to be different...
And follow your own star....
Don't be afraid to be happy...
Enjoy that...
That is beautiful.....
Love with all your heart and soul...
Believe those you love...
Love you......
Forget what you have done for others...
But concentrate on what others have done for you
And before you criticize...
Have a solution...
The only way to demand respect...
Is to give it And worry not of that...
That has happened to you but restrict your efforts to that...
That you must do...
When you are faced with a decision...
Make that decision as wisely as possible...
Then forget it because the moment of absolute certainty never arrives......
Act as if everything depended upon you...
Pray as if everything depended upon God...
Above all...
Remember...
As all Americans must...
It takes both the white and black keys of a piano...
To play...
"The Star-Spangled Banner"