WHAT IS RIGHT IS MORE IMPORTANT THAN WHO IS RIGHT
This quote from Coach Wooden was a key idea that he used to build cooperation and ultimately team spirit with his teams. It was also a central idea that governed his leadership and coaching style.
In his book The Essential Wooden with Steve Jamison, Coach explained the concept:
Cooperation: "One hand washes the other" is a pretty good explanation of my third block in the "working-together" values. Cooperation is present within a team when a leader is more concerned with what's right than who's right and with the best way rather than "my way." It's present in an environment in which no one cares who gets the credit. This approach fosters creativity, which in turn brings about improvement. Individually, each finger on your hand is weak. Working together-cooperating-they can paint a masterpiece. A leader's job is to build a team capable of producing a masterpiece. This can happen only when Cooperation is plentiful and everyone is working together.
In 2010 Kenny Heitz, a key member of three national championship teams (1967,68, 69)(88-2 record), described the way Coach built team spirit based on cooperation (it's not important who scores as long as we score), and the impact it had on him:
Well, for Coach and particularly for all those of us that were fortunate enough to play for him at UCLA, I think team spirit was a transcendent value of his. It was one of the things that was really ubiquitous in the time I was there. We didn't have many hard and fast rules, but one of the rules was that if somebody passed you the ball for a basket you acknowledged it either with a verbal thank you, a point or a wave. I made a lot of passes to Kareem Abdul Jabbar while I was playing at UCLA and I can't remember a one where he didn't manage to find me when we were going back into the press. His acknowledgment was a long pointed finger in your direction. It was also something if you didn't do in practice you could get chewed out big time in a hurry.
It's also symbolic of the fact that Coach really deeply believed in all of the parts that go into the whole of a team and everybody appreciating it and everybody doing their best to deliver. I would say there was not a whole lot of focus on lots of parts of the pyramid during the basketball experience. Team spirit was not one of those. We were constantly coached and taught to live it and to appreciate it. And I think for all of us, no matter what we did after basketball, it's one of the critical things that guided our lives.
After graduation Kenny graduated from Harvard Law School with honors, joined and became a senior partner at Irell & Manella.
Kenny passed away in July 2012.
Irell & Manella senior partner Morgan Chu said "For forty years, Ken has been our colleague, mentor, leader, partner, and pillar of strength. As he was on the basketball court, Ken was the consummate team player as a colleague. He made all of us better."
Kenny Heitz: Always a team player!
The leader with a "what is right is more important than who is right" attitude brings to mind a quote from Lao-Tzu in 565 B.C.:
But of a good leader who talks little,
They will say we did this ourselves.

Sounds like Kenny and Coach.
Craig Impelman
www.woodenswisdom.com

Twitter: @woodenswisdom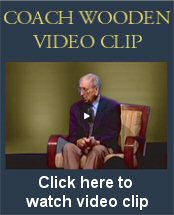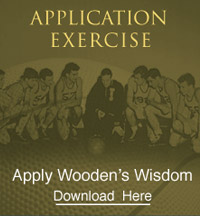 COACH'S
Favorite Poetry
AND PROSE


TEAM-SPIRIT

I have awed at a solo performance,
And spectacular flashy display,
But I crave for the best
And my eyes are more blessed,
When an unselfish team makes a play.

A play that's so perfect and simple,
With the weaving of role with a role-
Every piece partly seen,
Like a fine-tuned machine,
And you notice not one, but the whole.

Like an orchestra tuned to perfection,
Where harmonious beauty is found,
Every note has a quest-
To be part of the rest,
So the whole is a masterpiece sound.

Every wild one, once blinded by glory,
Is now cured and is one of the tame.
He receives his esteem,
As a part of the team,
And is eager to sacrifice fame.

It's amazing what teams have accomplished.
It's astounding how much they have done,
When the ultimate call,
Is when one is for all,
And the credit is reached for by none.

Swen Nater
April, 2002