LEARN AS IF YOU WERE GOING TO LIVE FOREVER, LIVE AS IF YOU WERE TO DIE TOMORROW
This famous quote from Mahatma Gandhi was a favorite of Coach Wooden's and it reflected the way he approached life.
In his book Wooden on Leadership, with Steve Jamison, Coach explained the quote as follows:
Be voracious in your daily desire to acquire knowledge, information and wisdom. Be joyful and appreciative of the blessing of this day you've been given.
Coach learned every day from listening, observing, experience and reading.
I never heard Coach Wooden interrupt anybody while they were speaking. Many people have stated that when you spoke to Coach Wooden he made you feel like you were the most important person in the room.
This was a result of the fact that when you spoke to Coach Wooden he was really listening, not thinking about something else or what he was going to say next when you were through speaking.
Coach put it this way: Don't just act like you're listening. Really listen. Good leaders are good listeners.
Parts of his great listening habits were a result of Coach being polite. I believe the other part was that he recognized that every time he listened he learned something. He once recited the following verse to me:
A wise old owl sat on an Oak
The more he heard the less he spoke
The less he spoke the more he heard
Now wasn't he a wise old bird
Coach learned from his college coach, Ward Lambert, that a coach should be a student of psychology. The title of Chapter 11 in the book Practical Basketball, written by Ward Lambert in 1932, is The Coach a Student of Psychology. Coach read the book.
Having learned from reading, Coach continued learning from observation and experience on a daily basis. In Wooden on Leadership, he describes it this way:
A good teacher is a good student, a lifelong learner. No two people are the same. Each individual under your leadership is unique. There is no formula that applies to all when it comes to teaching and leading. All won't follow; some need a push. Some you drive, others you lead. Recognizing the difference requires knowledge of human nature. That's where being a good student helps you in your leadership.
Coach never got in a rut. Each day he was trying to learn better ways to motivate each member of the team. As Coach liked to say: When you start having all the right answers, you will stop asking all the right questions.
The second half of this quote : Live as if you were to die tomorrow is sometimes associated with having a bucket list.
Coach viewed it simply as: Be joyful and appreciative of the blessing of this day you've been given.
This is an easy solution and doesn't require any travel.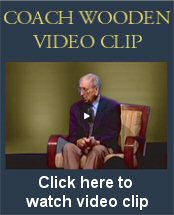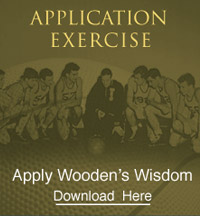 COACH'S
Favorite Poetry
AND PROSE
I SHALL NOT PASS THIS WAY AGAIN

I shall not pass this way again---
Although it bordered be with flowers,
Although I rest in fragrant bowers,
And hear the singing
Of song-birds winging
To highest heaven their gladsome flight;
Though moons are full and stars are bright,
And winds and waves are softly sighing,
While leafy trees make low replying;
Though voices clear in joyous strain
Repeat a jubilant refrain;
Though rising suns their radiance throw
On summer's green and winter's snow,
In such rare splendor that my heart
Would ache from scenes like these to part;
Though beauties heighten,
And life-lights brighten,
And joys proceed from every pain---
I shall not pass this way again.

Then let me pluck the flowers that blow,
And let me listen as I go
To music rare
That fills the air;
And let hereafter
Songs and laughter
Fill every pause along the way;
And to my spirit let me say:
"O soul, be happy; soon 'tis trod,
The path made thus for thee by God.
Be happy, thou, and bless His name
By whom such marvelous beauty came."
And let no chance by me be lost
To kindness show at any cost.
I shall not pass this way again;
Then let me now relieve some pain,
Remove some barrier from the road,
Or brighten someone's heavy load;
A helping hand to this one lend,
Then turn some other to befriend.



Eva Rose York