THE PEOPLE WHO DON'T MAKE MISTAKES ARE THE PEOPLE WHO DON'T DO ANYTHING

I have found this maxim of Coach Wooden's amongst the most useful in coaching youngsters at my summer basketball camps and coaching executives in a business environment.
Youngsters in competitive sports and business executives often face the same challenge: they are afraid to make a mistake.
The people who don't make mistakes are the people who don't do anything. Never be afraid to make a mistake
. These two sentences become a mantra that sometimes pushes people beyond their fear.
In the book How To Be Like Coach Wooden by Pat Williams, Coach describes why he was occasionally bothered if his players didn't make enough mistakes in practice:
I wanted my players to be active, I wanted them doing things and initiating. I didn't want them worrying about mistakes. Mistakes made while expanding boundaries are what I wanted. If we weren't making mistakes, we weren't far enough out on the edge. If we weren't pushing against the walls of our capabilities, we weren't practicing properly. The time to cut down on turnovers is during games, not during practice.
Coach continued to explain how this attitude leads to performing well under pressure.
In my next to last game (the
1975 National Championship Semi- Final) we were two points behind Louisville with only a few seconds to go. We set up a play for Richard Washington. Afterwards, a reporter asked, "Why did you pick Washington?", I replied, "Because he's not afraid of making a mistake. He thinks he's a pretty good shooter, and if he misses, he'll think, well, you can't make them all. Therefore, he's harnessed his fear. The others might be thinking, I've got to make it. If that's what they're thinking, they'll be fearful about missing. I didn't want that. I wanted Richard. And, as you know, we won".
In his book Wooden On Leadership with Steve Jamison, Coach describes how this attitude applies to leadership and business:
A basketball team that won't risk mistakes will not outscore opponents. The same is true for any organization. Fouls, errors, and mistakes are part of the competitive process in sports, business, and elsewhere. Don't live in fear of making a mistake.
In fact, Coach Wooden learned this very important lesson from his college coach,Piggy Lambert at Purdue, who summed it up like this: "The team that makes the most mistakes usually wins." The kind of mistakes he was referring to are not the result of carelessness or sloppiness, but the result of assertive action based on proper assessment of risk."
In sports, action often must be taken instantaneously to capitalize on an opportunity. In every organization, time is of the essence when opportunity knocks.
Hesitancy, indecisiveness, vacillation, and fear of failure are not characteristics I associate with good leadership.
A leader must have Initiative—the courage to make decisions, to act, and the willingness and strength to risk failure and take a stand, even when it goes against the opinion of others.
Coach sums it up this way:
Mistakes come from doing, but so does success. The individual who is mistake-free is also probably sitting around doing nothing. And that's a very big mistake.
Yours in Coaching,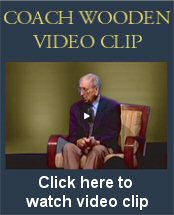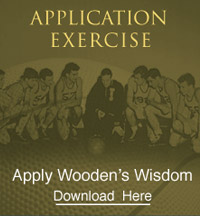 COACH'S
Favorite Poetry
AND PROSE


Fear of Failure

Not knowing if the decision was really right,
and being plagued by failure come to light.
The world is harsh and turns away its eye,
to those that can't make it and are denied.

Winners and losers compete on a daily play,
trading spots to some's benefit and other's dismay.
The only thing to both that stays the same,
is the fear of failure that comes in this game.

If failure happens it just might spell the end,
where they lose the battle and their friends.
If a winning decision and a successful task,
then there's nothing more for them to ask.

The fear is the component that holds us back,
and exposes the risk in the plans that lack.
Knowing the next step may be on the ledge,
there's a chance the next will be over the edge.

For those in the game without fear to fall,
they might just be the next one to win it all.

Morgan Carlson