BE AS ENTHUSIASTIC ABOUT THE SUCCESS OF OTHERS AS YOU ARE ABOUT YOUR OWN
This is one of Coach Wooden's most famous maxims. The idea was a cornerstone that Coach built on and felt was essential for developing a cohesive team.
Coach had a rule against something he felt worked against this idea. The rule was short, just two words.
I find it disconcerting to watch college basketball and see more and more players display three fingers after they make a three-point shot.
Aside from the fact that it is ineffective (taking them out of their zone) and annoying to watch; my primary concern is that now high school and grammar school players are doing the same thing.
We should be setting an example of teamwork not more of "look at me"!
Coach was quite direct regarding his feelings on showmanship:
I detest showmanship. I didn't permit showmanship and I don't like it at all.
In Coach Wooden's book,
The Essential Wooden
with Steve Jamison, Ray Regan from the 1938-39 South Bend Central Team describes how Coach Wooden made this point:
I remember we had a
showboat on our team.. One day, during a five-on-five scrimmage, Coach Wooden decided to teach the showboat a lesson about teamwork.
Coach took the four of us aside and said to pass the basketball to our teammate, the ball hog. Then we
were told to run immediately to the middle of the court, all four of us, sit down, and let the showboat play the other team all by himself.
It was Coach's way of showing this guy that everybody helps everybody or nothing gets done.
In his book Wooden on Leadership with Steve Jamison, Coach expounded on this topic:
"All for one and one for all" is not an empty slogan for me. I don't need scientific proof to know that Rudyard Kipling was correct: "For the strength of the pack is the wolf; and the strength of the wolf is the pack."
No one player should take credit for the effort of all the others.
That is the primary reason I strongly discouraged individuality—showboating or flamboyance—in the context of team play. Showing off or doing something contrived to gain attention for oneself not only demeans that individual, it is dismissive of the effort made by all of the other team members.
A player who is thumping his chest after he makes a basket is acknowledging the wrong person.
Team Spirit occurs when you are able to get those under your leadership to think "Team First" rather than "me first."
It would be great to see our players point one finger at their teammate to acknowledge the pass they received and not point three fingers at themselves to acknowledge the three point shot they made.
We are building the leaders of tomorrow.
Be as enthusiastic about the success of others as you are about your own
is a better leadership philosophy than Hey, look at what I just did.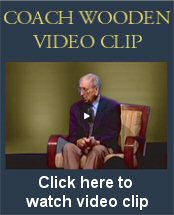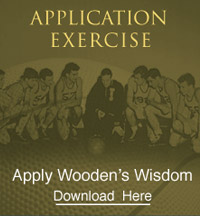 COACH'S
Favorite Poetry
AND PROSE


TEAM WORK
It's all very well to have courage and skill
And it's fine to be counted a star,
But the single deed with its touch of thrill
Doesn't tell the person you are;
For there's no lone hand in the game we play,
We must work to a bigger scheme,
And the thing that counts in the world today
Is, How do you pull with the team?

They may sound your praise and call you great,
They may single you out for fame,
But you must work with your running mate
Or you'll never win the game;
Oh, never the work of life is done
By the man with a selfish dream,
For the battle is lost or the battle is won
By the spirit of the team.
You may think it fine to be praised for skill,
But a greater thing to do
Is to set your mind and set your will
On the goal that's just in view;
It's helping your fellow man to score
When his chances hopeless seem;
Its forgetting self till the game is o're
And fighting for the team

Edgar A. Guest (1881-1959)