The Coach as a Leader - Part 9 (The Leader has a sense of humor and a humble spirit and can laugh at her/himself.)
These are ideas from an essay The Art of Leadership in the book The Art of Living by Wilferd A. Peterson, Coach Wooden's favorite text on Leadership.
A leader displays humility with: a humble sense of humor, eagerness to admit mistakes, sharing content without bragging and not engaging in false modesty.
Coach Wooden displayed his humble sense of humor with his response to a question regarding his statue at the John Wooden Gymnasium in his hometown of Martinsville, Indiana.
There is a life-size statue of me in the gymnasium in my hometown. The trouble is, when they delivered the statue the head broke off.
The school couldn't get in touch with the original sculptor so they had another one fix it. They sent him a picture and he made a head from the picture. The problem is that it wasn't my picture they sent.
My children don't like it at all and I say: "Be quiet. Its better looking than I am".
Coach Wooden's eagerness to admit a mistake is exemplified in this story from the Pat Williams book How to Be Like Coach Wooden:
In a late-season game at Notre Dame in 1973, Coach became upset by the play of Irish All-American John Shumate.
Wooden thought Shumate was roughing up his center, Bill Walton, so he stormed down to the Notre Dame bench and told Coach Digger Phelps how he felt about it. "If he doesn't knock it off, I'll send Swen Nater in for Walton and he won't take that."
A few days later, after Wooden had a chance to think about things, he wrote Phelps a note:
Dear Digger,
I owe you and John Shumate an apology and I hope you will accept it in the spirit it is offered. I acted hastily without thinking clearly, and taking all things into consideration and, as usual, actions from emotion are seldom with reason.
John Wooden
P.S. Please convey my feeling to John. He is a fine young man and an outstanding basketball player and I did him an injustice.
In my 30 years of being around Coach Wooden, I never heard him tell a story in which he somehow gave credit to himself.

At the same time, Coach would say: False modesty is as bad as false pride. If you receive a compliment you deserve; say thank you.
Coach summed it up this way:
Talent is God given, be humble; fame is man given, be thankful; conceit is self-given, be careful.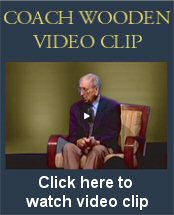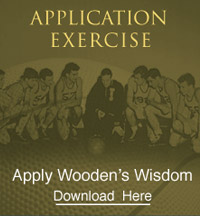 COACH'S
Favorite Poetry
AND PROSE


Humility
I find it difficult, to meet this one,
My search has traveled far,
Well beneath the setting sun,
Seems the distance of a star.

Heard a story of one who knows,
Contentment is his guide,
Moving calmly, nothing slows,
His pace is kept inside.

They say his eyes burn with light,
Deep down, to the soul,
If he answer's, it's always right,
Patience made him whole.

A kindly smile upon his face,
As if I know him well,
Soft voice, filled with grace,
Magically casts his spell.

Must move along, with the wind,
Find him and proclaim,
I've come too far, to rescind,
Humility is his name.
G.R. Gaus