NOTHING CAN GIVE YOU GREATER JOY THAN DOING SOMETHING FOR ANOTHER
Coach almost always referred to this key idea every time he spoke in one way or another. Most often he would say There is no greater joy in life than to find out that something you did or said was helpful to someone else in some small way.
After Coach retired, he kept his phone number listed and continued to make time for anybody to visit him and discuss anything if they called and asked. He never refused to sign an autograph, and responded personally to all his correspondence (including sending out hundreds of signed Pyramids each year).
He was highly sought after and well paid as a keynote speaker, but chose to remain in the modest condominium in Encino he had always lived in, although he could have afforded a much larger home.
Sometimes when people help others it is viewed as the giver making a sacrifice.
Enjoyment is thought of as something that is a result of acquiring something or having time (a vacation) for one's self.
Some folks felt that Coach was so generous that he was being taken advantage of some of the time.
The Wisdom of Wooden was that he recognized that the most enjoyment he had in life was helping others. He was not interested in acquiring material things for himself except to the extent that he could use them to help his family.
When Coach helped others he did not feel he was making a sacrifice, but rather that he was doing something he really enjoyed.
Coach viewed making time for someone to discuss something in the same context that some folks view going out and playing a round of golf. It was really fun.
When the author Anthony Robbins asked Coach Wooden what advice he would give to wealthy successful people who were unhappy, Coach replied: They should go find some people to help.
When asked how he would like to remembered, Coach replied: I'd like to be remembered as a normal person who was considerate of others.
Coach Wooden had a simple formula: If you really want to have fun or maybe if your spirits are down a little…go help somebody…you'll feel great!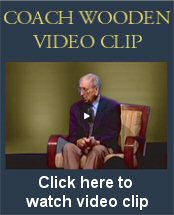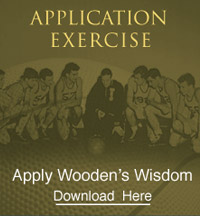 COACH'S
Favorite Poetry
AND PROSE
Mending Wall
(Part Two)
Spring is the mischief in me, and I wonder
If I could put a notion in his head:
'Why do they make good neighbors? Isn't it
Where there are cows?
But here there are no cows.
Before I built a wall I'd ask to know
What I was walling in or walling out,
And to whom I was like to give offence.
Something there is that doesn't love a wall,
That wants it down.' I could say 'Elves' to him,
But it's not elves exactly, and I'd rather
He said it for himself. I see him there
Bringing a stone grasped firmly by the top
In each hand, like an old-stone savage armed.
He moves in darkness as it seems to me~
Not of woods only and the shade of trees.
He will not go behind his father's saying,
And he likes having thought of it so well
He says again, "Good fences make good neighbors."



Robert Frost