BUILD A SHELTER AGAINST A RAINY DAY

Click here to watch short video clip of Coach Wooden
This favorite idea of Coach Wooden's was one that he almost always spoke about when giving a speech; usually in the context of discussing the sixth item of his Father's seven point creed: Build a shelter against a rainy day.
Coach put the principle in perspective this way:
Build a shelter against a rainy day – I don't think Dad was thinking of an earthly shelter.
I think of Socrates when he was imprisoned and unjustly facing imminent death and yet he faced it with serenity. His jailers did not understand this and asked, why aren't you preparing for death? Socrates replied: I've been preparing for death all my life with the life I've led.
Pat Williams, in his book John Wooden, gives this idea more clarity:
The way we build a shelter against a rainy day is not primarily by accumulating assets, but by becoming a certain kind of person. So the issue here is not one of accumulating material possessions, but one of accumulating values, virtues, character traits, faith in God, strong family relationships and enduring friendships. These are the "possessions" that will help us survive the rainstorms and floods of life.
These are things that cannot be taken away.
The basic principle of looking at other's material possessions and being able to admire without feeling a need to acquire is helpful in keeping us focused on those things that cannot be taken away.
When I first got married, my wife Christy and I had a one bedroom apartment with no air conditioner in the sometimes rather warm San Fernando Valley.
I was an air conditioner away from being happy.
My landlord provided us with an air conditioner. A new challenge arose when my friend rented a condominium.
I was a condominium away from being happy.
We finally got the condo but my friend received a promotion and purchased a home.
I was home ownership away from being happy.
We finally made it big and purchased our first home in a nice city named La Crescenta.
Things were going well and then my son joined a basketball team in another city named La Canada. I was asked to coach the team.
The homes in La Canada were much nicer, larger and a lot more expensive than the homes in La Crescenta.
At night when I would drop off my son's teammates at their beautiful homes I would think: I wish I could buy a home like that for my family.
I was a zip code away from being happy.
One night when I was driving home from La Canada I thought about Coach Wooden and I realized that it was not a better zip code that would make me happy, but simply to stop and appreciate the fantastic family and friends I already have.
Those are great things that cannot be taken away.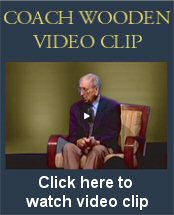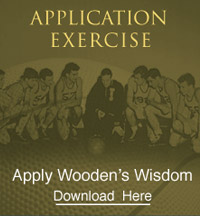 COACH'S
Favorite Poetry
AND PROSE
L'ENVOI
When Earth's last picture is painted and the tubes are twisted and dried,
When the oldest colours have faded, and the youngest critic has died,
We shall rest, and, faith, we shall need it -- lie down for an eon or two,
Till the Master of All Good Workmen shall put us to work anew!

And those that were good shall be happy: they shall sit in a golden chair;
They shall splash at a ten-league canvas with brushes of comets' hair;
They shall find real saints to draw from -- Magdalene, Peter, and Paul;
They shall work for an age at a sitting and never be tired at all!

And only the Master shall praise us, and only the Master shall blame;
And no one shall work for money, and no one shall work for fame,
But each for the joy of the working, and each, in his separate star,
Shall draw the Thing as he sees It for the God of Things as They Are!




Rudyard Kipling