THOSE WHO HAVE NEVER SUFFERED ADVERSITY NEVER EXPERIENCE THE TRUE MEANING OF SUCCESS
Coach Wooden defined Success as: Peace of mind attained only through self satisfaction in knowing you made the effort to do the best of which you're capable.
We should welcome adversity as a learning experience, that when met with effort, increases our capability.
Coach was concerned that if his team did not make enough mistakes during a basketball practice (mistakes of commission and not mistakes that were being repeated over and over), there was not enough effort; no challenging of adversity, to increase capability.
In his book The Pyramid of Success, with Jay Carty, Coach described his perspective on adversity.
We cannot allow difficulties to discourage us. Roadblocks may cause us to alter our course a bit, but we cannot let them deter us from our destination. I have often said that we grow stronger through adversity.
We become stronger physically through a weight-lifting program. Our muscles work against heavy objects. That's adversity. We get stronger mentally through the progressive difficulty of education. We don't start with calculus; we start with arithmetic. After we learn the basics, we move on to algebra, then to geometry and so on. We work our way up to calculus.
In the same way, we grow stronger spiritually through the tests of life. Losing my beloved wife, Nellie, was the hardest event in my life. For a couple of years, it slowed me down; but it didn't stop me. In the end, even her loss has made me stronger.
In every way - physically, morally, emotionally and spiritually - we increase our strength when life is hard; therefore, we must not dread adversity, nor can we allow it to stop us from becoming the best we can be through the steadfast pursuit of our goals.
In fact, as we become stronger we can and should expand our goals. Extending our capabilities to their limits requires us to realistically reevaluate our potential.
It has been said: If the road is too easy, you may be going the wrong way.
In his eleventh season (1959), Coach Wooden had the poorest record of his UCLA career, winning 14 games and losing 12.
Four years later, in 1963, UCLA lost in the first round of the NCAA tournament. Wooden had been coaching at UCLA for 15 years and made it to the NCAA tournament five times while posting a tournament record of three wins and nine losses—the worst record of any of the coaches that participated in the tournament that year.
In 1964, Coach Wooden won his first national championship. He would go on to win an unprecedented 10 national championships in his last 12 years of coaching at UCLA and in 2009 was voted by Sporting News as the greatest coach in the history of American athletics.
To live greatly, we must develop the capacity to face trouble with courage, disappointment with cheerfulness,and triumph with humility.― Thomas S. Monson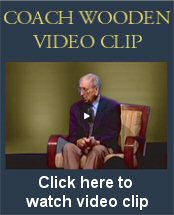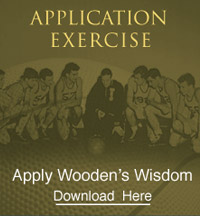 COACH'S
Favorite Poetry
AND PROSE
Each and All
(Part Two)
The lover watched his graceful maid,
As 'mid the virgin train she stayed,
Nor knew her beauty's best attire
Was woven still by the snow-white choir.
At last she came to his hermitage,
Like the bird from the woodlands to the cage; —
The gay enchantment was undone,
A gentle wife, but fairy none.
Then I said, "I covet truth;
Beauty is unripe childhood's cheat;
I leave it behind with the games of youth:" —
As I spoke, beneath my feet
The ground-pine curled its pretty wreath,
Running over the club-moss burrs;
I inhaled the violet's breath;
Around me stood the oaks and firs;
Pine-cones and acorns lay on the ground;
Over me soared the eternal sky,
Full of light and of deity;
Again I saw, again I heard,
The rolling river, the morning bird; —
Beauty through my senses stole;
I yielded myself to the perfect whole.




Ralph Waldo Emerson