GOALS ACHIEVED WITH LITTLE EFFORT ARE SELDOM WORTHWHILE OR LASTING
In July of 2009, Sporting News unveiled a list of sports' 50 greatest coaches of all time, as selected by a panel of 118 Hall of Famers, championship coaches and other experts.
John Wooden, who at UCLA won a record 10 Division I men's basketball championships in 12 years, was a runaway winner. Coach Wooden received 57 first-place votes from the panel, which included seven World Series-winning managers, four Super Bowl champion coaches and the winningest coaches in the NBA, NHL and college basketball. Green Bay Packers great Vince Lombardi came in second place in SN's rankings, receiving 20 first-place votes.
This was a great honor, but it is sometimes forgotten that John Wooden won his first National Championship in his 29th year of coaching.
The following are some steps in that journey:
1. When Coach Wooden became the head coach at UCLA in 1948, he was led to believe that his team would have a new arena by the end of his third season. The arena was not ready for the team until 1965, at the start of John Wooden's eighteenth season.
2. In 1950 UCLA made the NCAA Tournament but was eliminated in the first round.
3. In 1952 UCLA made the NCAA Tournament but was eliminated in the first round.
4. In 1956 UCLA made the NCAA Tournament but was eliminated in the first round.
5. In 1959 Coach Wooden had the poorest season of his UCLA career winning 14 games and losing 12.
6. In 1962 UCLA made it to the Final Four but lost in the Semi Finals.
7. In 1963 Arizona State defeated UCLA 93-79 in the first game of the NCAA Tournament, and the final score made the game sound closer than it was. Arizona State was leading 62-31 at halftime.
That season was Coach Wooden's 16th at UCLA; that appearance was his fifth NCAA tournament. In those tournament games, he had a painful record of only three wins and nine losses - the worst record of any of the coaches that participated in the tournament that year.
8. In 1964 Coach won the first of his ten National Championships.
In his book Pyramid of Success, with Jay Carty, Coach Wooden summed it up this way:
Our society has been permeated by a mind-set of immediate gratification. Simply put, people are impatient. They want too much too soon. They have lost sight of an overarching truth: In life, worthwhile accomplishments and acquisitions take time. Usually the better the reward, the more time it takes to acquire it.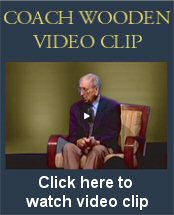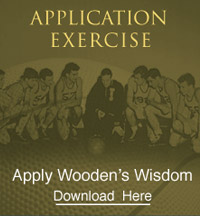 COACH'S
Favorite Poetry
AND PROSE
Renascence

All I could see from where I stood
Was three long mountains and a wood;
I turned and looked the other way,
And saw three islands in a bay.
So with my eyes I traced the line
Of the horizon, thin and fine,
Straight around till I was come
Back to where I'd started from;
And all I saw from where I stood
Was three long mountains and a wood.
Over these things I could not see:
These were the things that bounded me;
And I could touch them with my hand,
Almost, I thought, from where I stand.
And all at once things seemed so small
My breath came short, and scarce at all.
But, sure, the sky is big, I said;
Miles and miles above my head;
So here upon my back I'll lie
And look my fill into the sky.
And so I looked, and, after all,
The sky was not so very tall.
The sky, I said, must somewhere stop,
And—sure enough!—I see the top!
The sky, I thought, is not so grand;
I 'most could touch it with my hand!
And reaching up my hand to try,
I screamed to feel it touch the sky.
I screamed, and—lo!—Infinity
Came down and settled over me;
Forced back my scream into my chest,
Bent back my arm upon my breast,
And, pressing of the Undefined
The definition on my mind,
Held up before my eyes a glass
Through which my shrinking sight did pass
Until it seemed I must behold
Immensity made manifold;
Whispered to me a word whose sound
Deafened the air for worlds around,
And brought unmuffled to my ears
The gossiping of friendly spheres,
The creaking of the tented sky,
The ticking of Eternity.




Edna St. Vincent Millay