HOW COACH WOODEN ACHIEVED SERENITY
Coach Wooden had a six page, hand written document entitled:
Miscellaneous Quotes To Consider
Collected or Originated by John Wooden
In this document, Coach referenced the Serenity Prayer as follows:
Remember the words of St. Francis of Assissi-
"God grant me the serenity to accept the things I cannot change, the courage to change the things I can, and the wisdom to know the difference."
Coach, in his own files, had referenced this important idea for himself in two different ways, in this case placing serenity first and courage second.
Obtaining serenity, inner peace or inner confidence is easier to do when we are not fighting to maintain just a survival level of existence. What that survival level is for different people is a matter of individual, personal perspective.
In his book The Essential Wooden, with Steve Jamison, Coach Wooden discusses how he achieved that serenity while he was the Head Coach at UCLA:
I never had any fear of losing my job - being fired - at any point in my 40 years of coaching. This was true at Dayton High School in Kentucky, South Bend Central high school, Indiana State Teachers College, and The University of California Los Angeles.
There are a couple of good reasons for this. First, I felt confident, both as a coach and as an English teacher. If an administrator or the school board felt otherwise, I believed I could catch on someplace else.
Second, I never acquired a lifestyle that was difficult to pay for. Nor did I get my salary up so high that I might become "unhireable."
Therefore, in one of the most uncertain professions of all, coaching, I was certain of one thing; no athletic director or school board could hold fear of firing over my head. They knew I had absolutely no fear of being dismissed.
You might examine how you can achieve the same inner confidence about your job. When you do, it's a potent source of strength and serenity that ultimately makes you a much better leader. You are not vulnerable to inappropriate pressure.
If a young pro athlete or a rising executive receives a substantial pay raise and immediately buys a bigger house or better car, is it possible that they have unknowingly raised their personal survival level and placed new unneeded pressure on themselves that in the long run has a negative effect on their serenity and in turn their performance?
As Coach liked to say: Promise to be so strong that nothing can disturb your peace of mind.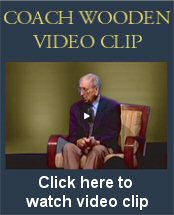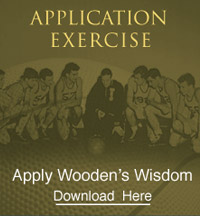 COACH'S
Favorite Poetry
AND PROSE
Renascence
(Part Two)

I saw and heard and knew at last
The How and Why of all things, past,
And present, and forevermore.
The Universe, cleft to the core,
Lay open to my probing sense
That, sick'ning, I would fain pluck thence
But could not,—nay! But needs must suck
At the great wound, and could not pluck
My lips away till I had drawn
All venom out.—Ah, fearful pawn!
For my omniscience paid I toll
In infinite remorse of soul.
All sin was of my sinning, all
Atoning mine, and mine the gall
Of all regret. Mine was the weight
Of every brooded wrong, the hate
That stood behind each envious thrust,
Mine every greed, mine every lust.
And all the while for every grief,
Each suffering, I craved relief
With individual desire,—
Craved all in vain! And felt fierce fire
About a thousand people crawl;
Perished with each,—then mourned for all!
A man was starving in Capri;
He moved his eyes and looked at me;
I felt his gaze, I heard his moan,
And knew his hunger as my own.
I saw at sea a great fog bank
Between two ships that struck and sank;
A thousand screams the heavens smote;
And every scream tore through my throat.
No hurt I did not feel, no death
That was not mine; mine each last breath
That, crying, met an answering cry
From the compassion that was I.
All suffering mine, and mine its rod;
Mine, pity like the pity of God.
Ah, awful weight! Infinity
Pressed down upon the finite Me!
My anguished spirit, like a bird,
Beating against my lips I heard;
Yet lay the weight so close about
There was no room for it without.
And so beneath the weight lay I
And suffered death, but could not die.
Long had I lain thus, craving death,
When quietly the earth beneath
Gave way, and inch by inch, so great
At last had grown the crushing weight,
Into the earth I sank till I
Full six feet under ground did lie,
And sank no more,—there is no weight
Can follow here, however great.
From off my breast I felt it roll,
And as it went my tortured soul
Burst forth and fled in such a gust
That all about me swirled the dust.




Edna St. Vincent Millay