THE MOST IMPORTANT WORD IN OUR LANGUAGE IS LOVE AND THE SECOND MOST IMPORTANT IS BALANCE - BALANCE

This one sentence of Coach Wooden's is a summary of his philosophy and how he lived his life.
When asked to comment on balance, Coach replied:
We must keep things in perspective. Balance is keeping things in perspective. Don't get carried away if things are going too well or too poorly, don't get carried away, just continue or make the effort to do the best you can at whatever you're doing.
In his book Wooden on Leadership with Steve Jamison, Coach commented on the importance of balance for a leader:
I strove for balance in my leadership and coaching and taught that balance was necessary for Competitive Greatness: The body has to be in balance; the mind has to be in balance; emotions must be in balance.
Balance is important everywhere and in everything we do.
The leader must set the example, not only in areas of right and wrong—character, of course—but elsewhere.
In my opinion, effective leaders understand that moderation and balance are linked to long-term success.
Workaholics, for example, lack balance. Imbalance, in my opinion, is a weakness that sooner or later causes problems. The first problem is likely to be inconsistency in performance.
Excess in just about anything has the potential to create erratic performance.
Communicate this fact throughout the ranks, and, of course, don't forget that your own example is frequently the very best method of communication.
Coach believed that the ability to balance work and family was a result of hard work and careful planning.
Failure to prepare is preparing to fail

and don't mistake activity for achievement

were the two cornerstones of Coach's meticulous process of organizing and executing his daily schedule.
At the first John Wooden Course, a young man in the audience explained to Coach how difficult it was for him to balance work and family with his busy schedule.
He implored Coach to tell him how he could get better balance in his life.
Plan your day more carefully.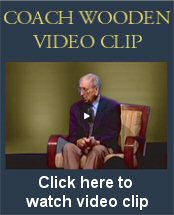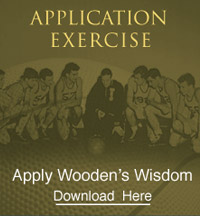 COACH'S
Favorite Poetry
AND PROSE


Balance
Every package of life comes with the happy and the sad,
Just like a flower garden blooms with thorns hidden between.
We must take the happy and the sad,
And try to balance our behavior around them,
For if we get caught up in the moment of joy and then when sorrow hits us,
We will be greatly affected,
And feel like there is no hope,
But if we try to balance them,
And when sorrow hits,
We would have learnt by now that in every happy there is a sad and..
Life must go on.