FINAL LIST OF THINGS WE WISH WE HAD DONE BETTER
There have been many articles written where older people are interviewed and talk about what regrets they have about the way they did things when they were younger.
This advice is passed along to younger people with the hope that they will live a happier, more productive life now, rather than later.
As a result of my research, I compiled eight areas of life people most commonly had regrets about.
Then using the Pyramid of Success, I put together some advice from Coach Wooden on these most common areas of regret. Last week we discussed areas of regret #s 2, 3, 4 and 5. This week we will discuss the final three, #s 6, 7 and 8:
6. I regret not taking more chances because I was afraid of failing and did not want to deal with change.
One of the blocks of Coach's Pyramid of Success is Initiative. Coach's advice is simple: to attain peace of mind you must cultivate the ability to make decisions and think alone. Do not be afraid of failure, but learn from it.
Coach had three key ideas regarding taking action and not being afraid to make mistakes:
The people who don't make mistakes are the people who don't do anything.
Don't permit fear of failure to prevent effort. We are all imperfect and will fail on occasions, but fear of failure is the greatest failure of all.
The person who is afraid to risk failure seldom has to face success. The only real failure is the failure to act when action is required.
In today's constantly evolving technology, we must embrace change, not avoid it. As Coach liked to say:
All change may not be progress, but all progress is the result of change.
7. I regret having given up on so many things at the first hurdle.
A key quality on Coach's Pyramid is Intentness. As Coach liked to say: Set a realistic goal. Concentrate on its achievement by resisting all temptations and being determined and persistent.
When we are faced with a road block, the key is to try different ways around it. Albert Einstein defined insanity as follows: Insanity: doing the same thing over and over again and expecting different results.
Coach described the value of a never give up attitude this way: Self-satisfaction will come from the knowledge that you left no stone unturned in an effort to accomplish everything possible under the circumstances.
8. I wish I had saved more money.
Coach lived very modestly because he recognized that more material things would not necessarily make him happier. He received his greatest joy from helping others.
A good rule is to keep your upgrade in life style two steps behind your pay raises.
Consistent saving when you are young will help your peace of mind when you are older. Make it a priority!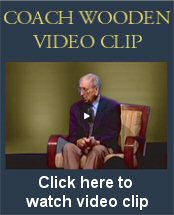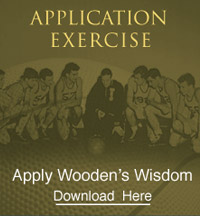 COACH'S
Favorite Poetry
AND PROSE
Sonnet: On his blindness
When I consider how my light is spent,
Ere half my days, in this dark world and wide,
And that one talent which is death to hide,
Lodged with me useless, though my soul more bent
To serve therewith my maker, and present
My true account, lest he returning chide,
Doth God exact day-labour, light denied?
I fondly ask; but Patience to prevent
That murmur, soon replies, God doth not need
Either man's work or his own gifts, who best
Bear his mild yoke, they serve him best, his state
Is kingly. Thousands at his bidding speed
And post o'er land and ocean without rest:
They also serve who only stand and wait.




John Milton