THE GREATEST CONQUEST OF MAN IS THE CONQUERING OF HIMSELF
Gautama Buddha (500 BC) expanded on this favorite idea of Coach Wooden's as follows:
Greater in battle than the man who would conquer a thousand-thousand men, is he who would conquer just one —himself. Better to conquer yourself than others.
When you've trained yourself, living in constant self-control, neither a deva nor gandhabba, nor a Mara banded with Brahmas, could turn that triumph back into defeat.
Sometimes when we are not getting the results we want; we may blame others instead of understanding that we are holding ourselves back.
This is a lesson Coach Wooden learned from his grade school coach and later passed on to his players.
In his book with Steve Jamison, My Personal Best, Coach Wooden described it this way:
Coach Warriner at Centerton Grade School taught me that arrogance, selfishness, and envy are unacceptable in a player. This was my introduction to the concept of team spirit - the absolute necessity for an individual to put the group's welfare ahead of his or her interests (such as an interest in shooting all the time). Like Mr. Warriner, I used the power of the bench on fellows who were slow learners - just as he used it on me. I wanted everyone, starters and non-starters alike, to understand that "the star of the team is the team."
As a sophomore in 1969, Sidney Wicks could've been a starting forward for virtually any school in the country. But he was not the starter at UCLA, because he was having difficulty with my concept of team play.
He was too concentrated on having the ball and shooting before he'd look for the pass. This is damaging because, among other reasons, teammates soon stop working to get open for a shot, as they know they won't get the ball. It then becomes every man for himself, and the team is destroyed. Thus, Sidney wasn't a starter.
He would say to me, "C'mon coach, you know I'm better than either starting forward." I'd nod and reply, "I know it, you know it, and they know it. So it's a shame they're going to remain starters until you get the hang of playing as part of the team."
Sidney did get the hang of it by his junior year and became the best all-around forward in the country for the next two seasons, an All- American both years, and a crucial part of two national championship teams in 1970 and 1971. The bench, in my opinion, helped make this possible.
Sidney Wicks was the second player taken in the 1971 NBA draft, the 1972 NBA Rookie of the Year and a four time NBA All Star selection.
A non starter at UCLA as a sophomore, Sidney then conquered himself and the rest is history.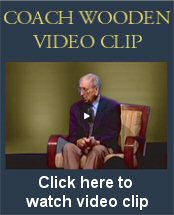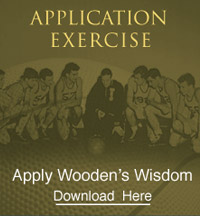 COACH'S
Favorite Poetry
AND PROSE
MAUD MULLER


MAUD MULLER, on a summer's day,
Raked the meadows sweet with hay.

Beneath her torn hat glowed the wealth
Of simple beauty and rustic health.

Singing, she wrought, and her merry glee
The mock-bird echoed from his tree.

But, when she glanced to the far-off town,
White from its hill-slope looking down,

The sweet song died, and a vague unrest
And a nameless longing filled her breast--

A wish, that she hardly dared to own,
For something better than she had known.

The Judge rode slowly down the lane,
Smoothing his horse's chestnut mane.

He drew his bridle in the shade
Of the apple-trees, to greet the maid,

And ask a draught from the spring that flowed
Through the meadow across the road.

She stooped where the cool spring bubbled up,
And filled for him her small tin cup,

And blushed as she gave it, looking down
On her feet so bare, and her tattered gown.

"Thanks!" said the Judge, "a sweeter draught
From a fairer hand was never quaffed."

He spoke of the grass and flowers and trees,
Of the singing birds and the humming bees;

Then talked of the haying, and wondered whether
The cloud in the west would bring foul weather.

And Maud forgot her briar-torn gown,
And her graceful ankles bare and brown;

And listened, while a pleasant surprise
Looked from her long-lashed hazel eyes.

At last, like one who for delay
Seeks a vain excuse, he rode away,

Maud Muller looked and sighed: "Ah, me!
That I the Judge's bride might be!

"He would dress me up in silks so fine,
And praise and toast me at his wine.




John Greenleaf Whittier