THERE ARE NO HOPELESS SITUATIONS, THERE ARE ONLY PEOPLE WHO HAVE GROWN HOPELESS ABOUT THEM
This favorite idea of Coach Wooden's is attributed to Clare Boothe Luce (1903-1987); the first American woman appointed to a major ambassadorial post abroad.
History provides us with numerous examples of seemingly hopeless situations that resulted in great triumphs.
Steve Jobs was fired from his own company; Nelson Mandela spent 27 years in prison; and Abraham Lincoln failed in business, had a nervous breakdown and was defeated in eight elections.
Upon graduation from college in 1900, Albert Einstein could not obtain a teaching position anywhere. In 1902 he finally got a full-time job in a Swiss patent office. It was not until 1909 that he was able to land a full time teaching position. In 1921, he received the Nobel Prize for research that he had done in 1905.
It took Howard Schultz a year to convince a small coffee bean shop in Seattle named Starbucks to hire him. He left the company in 1982 because they refused to move forward with his idea of serving coffee in their coffee bean stores. They did not want to get in the restaurant business. Frustrated, Schultz quit and started his own coffee-bar business, called Il Giornale. It was successful, and a year later Schultz bought Starbucks for $3.8 million.
I find the less publicized stories equally inspiring.
Bethany Hamilton was just 13 years old when her left arm got bitten off by a shark while surfing. After a month of medical operations, she returned to the sport, learning how to surf with one arm and a customized board, and hasn't stopped since.
Dawn Loggins, a former school janitor and straight-A student at her high school in North Carolina, was homeless her senior year after being abandoned by her drug-abusing parents. Not one to let her situation limit her, she applied to and was offered a full scholarship from Harvard.
Kyle Maynard, born with a condition known as congenital amputation, is the first quadruple amputee to successfully ascend Mount Kilimanjaro without any prosthetics. He made this happen by taping pieces of bicycle tire to the ends of his limbs to protect him as he scaled the mountain.
In 1925 Joshua Wooden lost his farm. He moved his family to the small Indiana town of Martinsville, where he was able to get a job as a masseuse at the Home Lawn Sanitarium, a local health spa.
The Seven Point Creed and Two Sets of Three that Joshua Wooden taught his son John became the foundation that the greatest coach in the history of American sports used to positively influence millions of people all over the world.
The secret to turning a seemingly hopeless situation into a triumph is simple. Joshua Wooden put it this way:
Don't whine, don't complain, don't make excuses. Just do the best you can. Nobody can do more than that.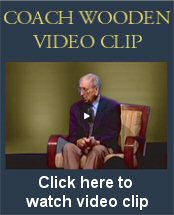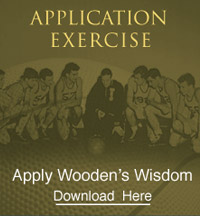 COACH'S
Favorite Poetry
AND PROSE
MAUD MULLER
(Part Two)
"My father should wear a broadcloth coat;
My brother should sail a painted boat.

"I'd dress my mother so grand and gay,
And the baby should have a new toy each day.

"And I'd feed the hungry and clothe the poor,
And all should bless me who left our door."

The Judge looked back as he climbed the hill,
And saw Maud Muller standing still.

"A form more fair, a face more sweet,
Ne'er hath it been my lot to meet.

"And her modest answer and graceful air
Show her wise and good as she is fair.

"Would she were mine, and I to-day,
Like her, a harvester of hay:

"No doubtful balance of rights and wrongs,
Nor weary lawyers with endless tongues,

"But low of cattle, and song of birds,
And health, and quiet, and loving words."

But he thought of his sisters, proud and cold,
And his mother, vain of her rank and gold.

So, closing his heart, the Judge rode on,
And Maud was left in the field alone.

But the lawyers smiled that afternoon,
When he hummed in court an old love-tune;

And the young girl mused beside the well,
Till the rain on the unraked clover fell.

He wedded a wife of richest dower,
Who lived for fashion, as he for power.

Yet oft, in his marble hearth's bright glow,
He watched a picture come and go:

And sweet Maud Muller's hazel eyes
Looked out in their innocent surprise.

Oft when the wine in his glass was red,
He longed for the wayside well instead;

And closed his eyes on his garnished rooms,
To dream of meadows and clover-blooms.




John Greenleaf Whittier