YOU MEET THE SAME PEOPLE ON THE WAY UP AS YOU MEET ON THE WAY DOWN
The origin of this favorite quote of Coach Wooden's is attributed to playwright Wilson Mizner, who in 1932 gave the following advice to a young up and coming motion picture star: Be kind to everyone on the way up; you'll meet the same people on the way down.
For Coach Wooden, this was sound advice for his players at UCLA, to keep things in proper perspective and not get big headed.
For Coach Wooden, this statement reflected how he lived his life; not, however, to get some desired result, but rather just doing what he enjoyed: Treating all people with dignity and respect and helping others.
This story from Pat Williams' book How to Be Like Coach Wooden: Life Lessons from Basketball's Greatest Leader, is a good example of this approach to life.
Steve Jamison, a writer who has often worked with Coach, told me about a book signing at a Barnes & Noble in Huntington Beach, California: "People started lining up at 7 A.M. for a 2 P,M. signing," he said. "The publisher had hired a driving service to escort us that day, and after the signing, we were driven to Coach's granddaughter's house for dinner.
As we were getting out of the car, Coach turned to the driver; a man named Jason, and asked, `You'll join us for dinner, won't you?' The man was startled-but wound up sitting next to Coach at the table-with a dumbfounded look on his face, as if to ask, `Is this really happening?'
This is how John Wooden thinks: Everyone should be treated properly, with respect and dignity. You don't leave a driver out in the car while everyone else is inside eating. That lesson really hit me; if the greatest coach of the twentieth century acts this way with people at all levels, I can too."
In writing this issue of Wooden's Wisdom I asked my wife Christy if she recalled the dinner, as it was at our home. She did recall it, as it was always great to have Coach visit. We both recalled the driver Jason joining us for dinner, but neither one of us at the time or now thought that was unusual.
We agreed we would have been surprised if Coach had left the gentleman sitting in the car while we ate.
For Coach, treating all people with dignity and respect was common courtesy, not a special event.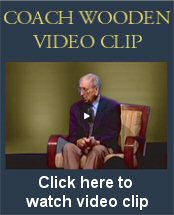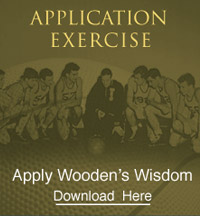 COACH'S
Favorite Poetry
AND PROSE
Home

It takes a heap o' livin' in a house t' make it home,
A heap o' sun an' shadder, an' ye sometimes have t' roam
Afore ye really 'preciate the things ye lef' behind,
An' hunger fer 'em somehow, with 'em allus on yer mind.
It don't make any differunce how rich ye get t' be,
How much yer chairs an' tables cost, how great yer luxury;
It ain't home t' ye, though it be the palace of a king,
Until somehow yer soul is sort o' wrapped round everything.
Home ain't a place that gold can buy or get up in a minute;
Afore it's home there's got t' be a heap o' livin' in it;
Within the walls there's got t' be some babies born, and then
Right there ye've got t' bring 'em up t' women good, an' men;
And gradjerly as time goes on, ye find ye wouldn't part
With anything they ever used — they've grown into yer heart:
The old high chairs, the playthings, too, the little shoes they wore
Ye hoard; an' if ye could ye'd keep the thumb-marks on the door.




Edgar Albert Guest