ALTHOUGH IT MAY NOT BE POSSIBLE TO DETERMINE WHAT HAPPENS TO YOU, YOU SHOULD CONTROL HOW YOU REACT AND RESPOND
In his book Wooden on Leadership, with Steve Jamison, Coach Wooden talked about what he meant by this favorite phrase of his:
You may have noticed that when unexpected good fortune arrives at our doorstep, we often accept it without thought, not even a tip of the hat. In trying times, however, we are quick to conclude that the fates are working directly and unfairly against us—to find an excuse to let up, lose heart and then quit.
George Moriarty described it like this: Sometimes I think the fates must grin as we denounce them and insist, The only reason we can't win Is because the fates themselves have caused it. But it is not the fates that have "missed," rather the fortitude of a leader who says "woe is me" moments before giving up in the face of misfortune.
Do not let "woe is me" become your theme song. It is a tune sung only by weak leaders.
Shakespeare expressed it well. Shortly before Hamlet faces likely death in a fencing match arranged by the man who murdered his father, his friend Horatio tries to offer him an excuse to run, hide, or quit. Hamlet refuses. He has come to believe that all things happen for a reason and tells Horatio, "There is special providence in the fall of a sparrow." Hamlet saw divine guidance and care in all events—big and small—and was determined to face his destiny with courage and skill.
I believe the same. I was taught to make the best of whatever the fates—providence—brought forth into my life. This belief has been of great benefit to me, most particularly when it came to leading others. "Although you may not be able to control what fate brings your way, you can control how you react and respond to it. At least, you should be able to."
Coach Wooden taught that adversity is your asset. In Coach Wooden's Leadership Game Plan for Success, Coach gave three reminders on this topic:
1. All leaders and their organizations are visited by misfortune and bad luck. You will not be the exception to the rule.
2. Adversity makes us stronger, but only if we resist the temptation to blame fate for our troubles.
3. How often have you not recognized an opportunity because it wore the disguise of bad luck?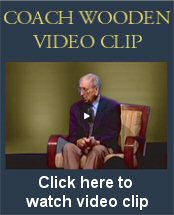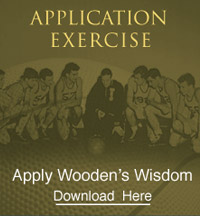 COACH'S
Favorite Poetry
AND PROSE
"KEEP A-GOIN'"
If you strike a thorn or rose,
Keep a-goin'!
If it hails or if it snows,
Keep a-goin'!
'Taint no use to sit an' whine
When the fish ain't on your line;
Bait your hook an' keep a-tryin'--
Keep a-goin'!

When the weather kills your crop,
Keep a-goin'!
Though 'tis work to reach the top,
Keep a-goin'!
S'pose you're out o' ev'ry dime,
Gittin' broke ain't any crime;
Tell the world you're feelin' prime--
Keep a-goin'!

When it looks like all is up,
Keep a-goin'!
Drain the sweetness from the cup,
Keep a-goin'!
See the wild birds on the wing,
Hear the bells that sweetly ring,
When you feel like singin', sing--
Keep a-goin'!




Frank L. Stanton