A PERSON WHO TRUSTS PEOPLE WILL MAKE FEWER MISTAKES THAN A PERSON WHO DISTRUSTS
In his book with Steve Jamison, The Essential Wooden, Coach Wooden discussed the critical nature of building trust:
When spring arrived each year in Indiana, the warming weather would slowly soften the ice covering a little pond near our farm. While the ice still looked safe and solid, strong enough to walk on, it was very dangerous.
Some called it "rotten ice." Step on it here, and you were fine; step on it there, and it would give way – you'd fall through. The ice was undependable.
A leader who finds it difficult to abide by the Golden Rule is like that Indiana ice in springtime – undependable, untrustworthy. Without trust between a team and leader, there really is no team at all – just a collection of individuals who don't amount to much.
Do not betray your team, and the team will not betray you. It begins with my father's teaching of the Golden Rule - "Do onto others as you would have them do unto you." Abide by his model and you will find yourself leading a team of individuals who are loyal to you and whose bonds to the organization and its mission are sturdy.
Loyalty is a two-way street. You must give it to receive it. Be fair, be just and be honest, and you will be a leader who inspires loyalty and who has the trust of those under your supervision.
It is not possible for an organization to operate at consistently high levels in a competitive environment without loyalty to a leader who is, in turn, loyal to the team. Loyalty is not bought and sold. You earn it.
Trust is needed as well. When you give it, you get it. Like loyalty, it must be earned. It may take years to build trust but it can be lost in a minute. It is precious.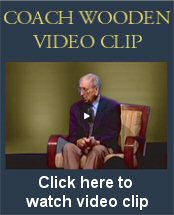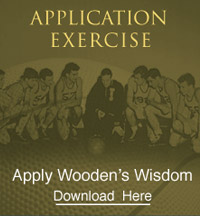 COACH'S
Favorite Poetry
AND PROSE
Character of the Happy Warrior

WHO is the happy Warrior? Who is he
What every man in arms should wish to be?
—It is the generous Spirit, who, when brought
Among the tasks of real life, hath wrought
Upon the plan that pleased his childish thought:
Whose high endeavours are an inward light
That makes the path before him always bright:
Who, with a natural instinct to discern
What knowledge can perform, is diligent to learn,
Abides by this resolve, and stops not there,
But makes his moral being his prime care;
Who, doomed to go in company with Pain,
And Fear, and Bloodshed, miserable train!
Turns his necessity to glorious gain;
In face of these doth exercise a power
Which is our human nature's highest dower;
Controls them and subdues, transmutes, bereaves
Of their bad influence, and their good receives:
By objects, which might force the soul to abate
Her feeling, rendered more compassionate;
Is placable—because occasions rise
So often that demand such sacrifice;
More skilful in self-knowledge, even more pure,
As tempted more; more able to endure,
As more exposed to suffering and distress;
Thence, also, more alive to tenderness.
—'Tis he whose law is reason; who depends
Upon that law as on the best of friends;
Whence, in a state where men are tempted still
To evil for a guard against worse ill,
And what in quality or act is best
Doth seldom on a right foundation rest,
He labours good on good to fix, and owes
To virtue every triumph that he knows:




William Wordsworth