A GOOD MEMORY IS ONE THAT CAN REMEMBER THE DAY'S BLESSINGS AND FORGET THE DAY'S TROUBLES
This Irish blessing was a favorite of Coach Wooden's. It supports and is a good reminder of the seventh item in Joshua Wooden's Seven Point Creed:
Pray for guidance, count and give thanks for your blessings every day.
In his book The Wisdom of Wooden, with Steve Jamison, Coach expanded on the idea:
You'll be much happier if you spend as much time thinking about your blessings as you do about your troubles. In this regard, it is helpful to forget favors given and remember those received.
In his book Wooden, with Steve Jamison, Coach summed it up this way:
So often we fail to acknowledge what we have because we're so concerned about what we want. We fail to give real thanks for the many blessings for which we did nothing: our life itself, the flowers, the trees, our family and friends.
In his book with Jay Carty, Coach Wooden's Pyramid of Success, Coach put the idea of blessings in perspective:
I can recount so many blessings in my life and I am thankful for them, but blessings don't constitute success. If none of the good things had ever occurred, I would not be any less successful. The real determining factor is this: Did I make the effort to do my best? That is the only criteria, and I am the only one who knows (well, me and God). Am I a success? I have peace of mind.
With this perspective, Coach was able to appreciate the blessings he received, not expect them or depend on them. The day's troubles were never anything for him to focus on.
Neither had anything to do with success for himself, as he defined it. The focus was on his best effort, not external forces he could not control.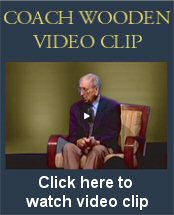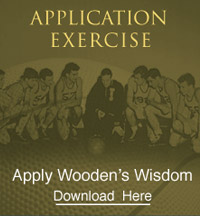 COACH'S
Favorite Poetry
AND PROSE
Character of the Happy Warrior
(Part Two)
—Who, if he rise to station of command,
Rises by open means; and there will stand
On honourable terms, or else retire,
And in himself possess his own desire;
Who comprehends his trust, and to the same
Keeps faithful with a singleness of aim;
And therefore does not stoop, nor lie in wait
For wealth, or honours, or for worldly state,
Whom they must follow; on whose head must fall,
Like showers of manna, if they come at all:
Whose power shed round him in the common strife,
Or mild concerns of ordinary life,
A constant influence, a peculiar grace;
But who, if he be called upon to face
Some awful moment to which Heaven has joined
Great issues, good or bad for human kind,
Is happy as a Lover; and attired
With sudden brightness, like a Man inspired;
And, through the heat of conflict, keeps the law
In calmness made, and sees what he foresaw:
Or if an unexpected call succeed,
Come when it will, is equal to the need:
—He who, though thus endued as with a sense
And faculty for storm and turbulence,
Is yet a Soul whose master-bias leans
To homefelt pleasures and to gentle scenes;
Sweet images! which, whereso'er he be,
Are at his heart; and such fidelity
It is his darling passion to approve;
More brave for this, that he hath much to love:—
'Tis, finally, the Man, who, lifted high,




William Wordsworth