DWELLING IN THE PAST PREVENTS DOING SOMETHING IN THE PRESENT
Coach Wooden's quote that dwelling in the past prevents doing something in the present is usually applied to encourage people not to focus on past disappointments.
On another level, Coach used this approach for himself to make sure that although he was already the most successful coach in college basketball, he did not dwell in the past (rest on his laurels) but rather did something in the present (aggressively continued to improve himself).
I had the opportunity to visit with Hall of Fame Coach Hubie Brown because I wanted to share with him that Coach once told me that the best basketball clinic on the fast break (a basketball clinic is usually an all day event where five or six celebrity coaches make 2 to 3 hour presentations on a topic and other coaches attend to learn) he had ever seen was presented by Coach Brown.
Coach Brown recalled that his presentation that night started at 8:30 p.m. and Coach Wooden had sat in the front row for three hours making copious notes on everything that he was presenting, although Coach Wooden was not speaking himself until the next morning.
He further recalled that Coach Wooden had stopped him that night in the hallway of the Marriott to ask him further questions about transition defense.
Coach Brown and Coach Wooden enlisted three young coaches walking down the hallway, to make up their five-man demonstration team and continued their discussion until 12:30 AM.
Coach Brown said Coach Wooden gave his own presentation the next morning at 8:30 AM and hit a homerun.
Coach Brown continued:
There was one thing that was different about John Wooden than most of us who spoke at Coaches Clinics.
Most celebrity Coaches arrived, made their presentation and left.
John Wooden would attend the entire clinic, listen to all the presenters, sit in the front row and take notes from the beginning to the end.
For Coach Wooden, there was no dwelling in the past, only doing in the present.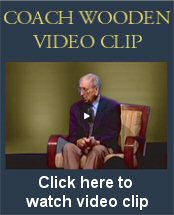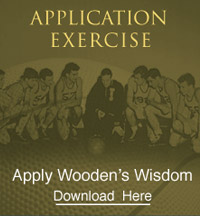 COACH'S
Favorite Poetry
AND PROSE
Character of the Happy Warrior
(Part Three)
Conspicuous object in a Nation's eye,
Or left unthought-of in obscurity,—
Who, with a toward or untoward lot,
Prosperous or adverse, to his wish or not,
Plays, in the many games of life, that one
Where what he most doth value must be won.
Whom neither shape of danger can dismay,
Nor thought of tender happiness betray;
Who, not content that former worth stand fast,
Looks forward, persevering to the last,
From well to better, daily self-surpast:
Who, whether praise of him must walk the earth
For ever, and to noble deeds give birth,
Or he must fall to sleep without his fame,
And leave a dead unprofitable name,
Finds comfort in himself and in his cause;
And, while the mortal mist is gathering, draws
His breath in confidence of Heaven's applause:
This is the happy Warrior; this is he
Whom every Man in arms should wish to be.




William Wordsworth