KINDNESS IN WORDS CREATES CONFIDENCE, KINDNESS IN THINKING CREATES PROFOUNDNESS, KINDNESS IN GIVING CREATES LOVE
Each part of this quote (a favorite of Coach Wooden's) by the famous Chinese philosopher Lao Tzu (571-531 BC), is valuable.
This issue focuses on why the idea Kindness in words creates confidence was such an important part of Coach Wooden's communication style.
Coach Wooden's communication style was effective in helping his players develop confidence and pride in what they did. If kindness in words creates confidence it is also true that being demeaning, derogatory on a personal level or condescending in words does not create confidence. Coach was never any of these three things.
In his book Coach Wooden's Leadership Game Plan for Success, with Steve Jamison, Coach put it this way:
I was often critical of players, but I tried hard to avoid personal attacks, embarrassment, or demeaning comments, which would make them less likely to take my criticism to heart.
Doug McIntosh, a former player and a member of the 1964 and 1966 national championship teams, described Coach this way:
He was strict, but there was no sense of fear of him by players. We knew there was nothing personal in his criticism or comments.
Profanity was not used by Coach because beside the fact that it sets a poor example of self control, it is certainly no confidence builder and its instructive value is at best questionable.
Coach's words of kindness were impactful because they were sincere, not excessive.
In his book Wooden on Leadership, with Steve Jamison, Coach expanded on the idea:
Positive words become meaningless when offered habitually and excessively. I avoided the phrase, "that's great" instead I would say "good, very good, getting better" I kept in mind that how I conveyed information was often as important as the information itself. My tone was measured and my demeanor controlled.
About 85% of Coach's communication was simply instructive. His players were not distracted by undue criticism or undeserved compliments from his communication.
As a result, they were able to focus on the instruction he was giving and build confidence in themselves.
This formula works equally well on and off the court.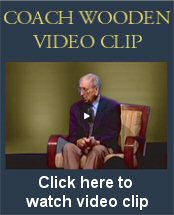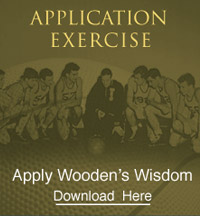 COACH'S
Favorite Poetry
AND PROSE
The Cloud

I bring fresh showers for the thirsting flowers,
From the seas and the streams;
I bear light shade for the leaves when laid
In their noonday dreams.
From my wings are shaken the dews that waken
The sweet buds every one,
When rocked to rest on their mother's breast,
As she dances about the sun
I wield the flail of the lashing hail,
And whiten the green plains under,
And then again I dissolve it in rain,
And laugh as I pass in thunder.

I sift the snow on the mountains below,
And their great pines groan aghast;
And all the night 'tis my pillow white,
While I sleep in the arms of the blast.
Sublime on the towers of my skyey bowers,
Lightning my pilot sits;
In a cavern under is fettered the thunder,
It struggles and howls at fits;
Over earth and ocean, with gentle motion,
This pilot is guiding me,
Lured by the love of the genii that move
In the depths of the purple sea;
Over the rills, and the crags, and the hills,
Over the lakes and the plains,
Wherever he dream, under mountain or stream,
The Spirit he loves remains;
And I all the while bask in Heaven's blue smile,
Whilst he is dissolving in rains.

The sanguine Sunrise, with his meteor eyes,
And his burning plumes outspread,
Leaps on the back of my sailing rack,
When the morning star shines dead;
As on the jag of a mountain crag,
Which an earthquake rocks and swings,
An eagle alit one moment may sit
In the light of its golden wings.
And when Sunset may breathe, from the lit sea beneath,
Its ardors of rest and love,
And the crimson pall of eve may fall
From the depth of Heaven above,
With wings folded I rest, on mine aëry nest,
As still as brooding dove.




Percy Bysshe Shelley