SPEND SO MUCH TIME IMPROVING YOURSELF THAT YOU WON'T HAVE TIME TO CRITICIZE OTHERS
Time is precious. Time is limited. Time that is used in a negative manner is now not available to do something positive.
Coach Wooden often mentioned he never heard his father Joshua say an unkind word about anyone. Joshua Wooden wasted no time on the negative.
Joshua Wooden chose to use his time to read Scripture and poetry to his three sons on the back porch of the farm, after the chores were done.
Coach made his best effort to follow his father's example in this regard.
This quote from Coach Wooden clearly states that he wanted his players to concentrate on self improvement and not waste time being critical of each other.
One of Coach's three rules for basketball practice was never criticize a teammate. If a player wasted time doing this he was subject to being kicked out of practice.
Coach had two other great quotes that went hand in hand with this one regarding the best way to use time:
Great minds discuss ideas; average minds discuss events; shallow minds discuss people.
Time spent getting even would be better spent trying to get ahead.
This positive use of time was a core value of Coach's approach to his daily activities. He recognized that he would need as much time as possible to focus on one of his primary objectives: Constant Improvement!
In his book Wooden on Leadership with Steve Jamison, Coach Wooden describes how this focus on constant improvement and lifelong learning helped him develop his leadership skills:
I believe leadership itself is largely learned.
Whatever coaching and leadership skills I possess were learned through listening, observation, study, and then trial and error along the way.
In my opinion, this is how most leaders improve and progress. For me, the process of learning leadership continued for 40 years until the day I walked off the court for the last time as head coach—March 31, 1975. In truth, my learning continued even after that.
The best leaders understand that to successfully compete at any level requires continuous learning and improvemt.
The most effective leaders are those who realize it's what you learn after you know it all that counts most.
I hope these ideas in some small way have a positive impact on your time management.
Yours in Coaching,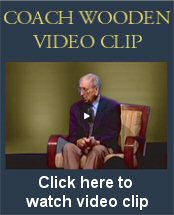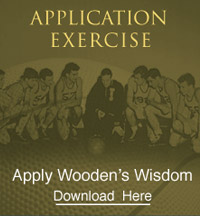 COACH'S
Favorite Poetry
AND PROSE


Today

I've shut the door on yesterday
its sorrows and mistakes;
I've looked within its gloomy walls,
past failures and heartaches.
And now I throw the key away,
to seek another room,
and function it with hope and smiles,
and every springtime bloom.
No thought shall enter this abode,
that has a hint of pain,
and envy, malice, and distrust,
shall never entrance gain.
I've shut the door on yesterday,
and thrown the key away,
tomorrow holds no fear for me,
since I have found today.....
Vivian Yeser Laramore