IF YOU KEEP TOO BUSY LEARNING THE TRICKS OF THE TRADE, YOU MAY NEVER LEARN THE TRADE
In his book Wooden A Lifetime of Observations On and Off the Court, with Steve Jamison, Coach expanded on this important idea:
There are no shortcuts. If you're working on finding a shortcut, the easy way, you're not working hard enough on the fundamentals. You get away with it for a spell, but there is no substitute for the basics. And the first basic is good old-fashioned hard work.
There is an expression, I want to work smart, not hard. Coach Wooden would say I want to work smart and hard.
When Coach refers to not keeping too busy learning the tricks of the trade he is not in any way suggesting that we shouldn't constantly be trying to improve our production processes.
His success was based on two simple ideas, failure to prepare is preparing to fail, and don't mistake activity for achievement.
Coach Wooden's basketball practices were limited to two hours a day, a shorter time than many of his peers. His shorter practice time was not intended to be a trick or a shortcut to success. The amount of time was based on maximum efficiency and a consistent peak effort from all involved. There were no tricks, this was just smart and hard work.
Coach Wooden and his staff spent two hours every day planning in meticulous detail those two hour practices. In his 28th season at UCLA, he was still spending the same two hours every day planning a two-hour practice that was structurally very similar to the practices he had run in the past.
Coach was refining his trade with an eye on consistent improvement; no tricks, no shortcuts.
Coach felt if you took shortcuts you would not develop the skills within you required to reach your potential in your chosen field.
If a sales process has five fundamental steps and you skip three of them because you feel you don't need them to get the sale that one time, you are not developing your ability to effectively deliver all five steps when you need them.
As Coach said: You get away with it for a spell, but there is no substitute for the basics.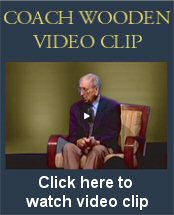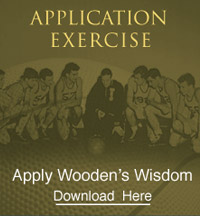 COACH'S
Favorite Poetry
AND PROSE
The Man with a Hoe
(Part Two)
What gulfs between him and the seraphim!
Slave of the wheel of labor, what to him
Are Plato and the swing of the Pleiades?
What the long reaches of the peaks of song,
The rift of dawn, the reddening of the rose?
Through this dread shape the suffering ages look;
Time's tragedy is in that aching stoop;
Through this dread shape humanity betrayed,
Plundered, profaned and disinherited,
Cries protest to the Powers that made the world,
A protest that is also prophecy.

O masters, lords and rulers in all lands,
Is this the handiwork you give to God,
This monstrous thing distorted and soul-quenched?
How will you ever straighten up this shape;
Touch it again with immortality;
Give back the upward looking and the light;
Rebuild in it the music and the dream;
Make right the immemorial infamies,
Perfidious wrongs, immedicable woes?

O masters, lords and rulers in all lands,
How will the future reckon with this Man?
How answer his brute question in that hour
When whirlwinds of rebellion shake all shores?
How will it be with kingdoms and with kings--
With those who shaped him to the thing he is--
When this dumb Terror shall rise to judge the world,
After the silence of the centuries?




Charles Edward Anson Markham