NEVER TRY FOR A LAUGH AT ANOTHER'S EXPENSE - TRY TO LAUGH WITH OTHERS AND NEVER AT THEM
Laughter and humor are critical parts of being happy. We all should make the effort to achieve them the right way.
Self deprecating humor relays a message of humility and encourages trust. It is a valuable asset for any leader. Willfred Peterson wrote in his essay The Art of Leadership:
The Leader has a sense of humor. The Leader is not a stuffed shirt. The Leader has a humble spirit and can laugh at his or herself.
Whether it is a basketball team, the work place, a gathering of friends or family, put down humor has a negative effect on the group.
Motivational speaker Bob Burg expanded on the subject:
Are you about to make a joke at someone else's expense? Here's my suggestion: First, think about it for a moment…....NOW DON'T DO IT!
There is no upside (other than perhaps a fleeting moment of false superiority).
There is a huge downside, including - but not limited to - hurting another human being's feelings; making yourself look bad; destroying trust with the target of the joke; losing trust (thus influence) with those who are witness to, or hear about, the insult; and being disliked without a principle-based reason for it.
If you MUST make a joke at someone's expense, make sure it's at your expense. And, remember, if you say something to someone that you meant to be harmlessly funny and then find yourself having to say, "I was only kidding" then it probably wasn't funny in the first place.
The final three points from Coach Wooden's essay Six Ways to Bring Out the Best in People were:
Seek individual opportunities to offer a genuine compliment.
Remember that sincerity, optimism, and enthusiasm are more welcome than sarcasm, pessimism, and laziness.
Laugh with others; never at them.
This is great advice and easy to follow.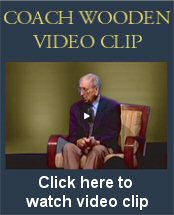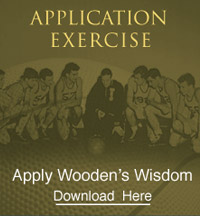 COACH'S
Favorite Poetry
AND PROSE
Letter to a Young Friend

I long have thought, my youthful friend,
Of something that I might send you,
Though it should serve no other end
Than just a kind memento;
But how the theme should be hung,
Let time and chance determine;
It might be a poem to be sung;
Or perhaps, turn out to be a sermon.

You will soon be facing the world, my lad,
And, Andrew, please do believe me,
You will find people a very odd squad,
And at times they will sorely grieve you:
For care and trouble, do set your thought,
When your end is not attained;
And all of your views come to naught,
When all of your nerves are strained.

Yet they who fail in fortune's strife,
Their fate we should not censure;
Because for the important ends of life
They provide a very creditable answer:
A person may have an honest heart,
Though constantly faced with need,
Such person may take a neighbor's part,
But have no money to feed.

Be always free with our story to tell,
When with a bosom buddy;
But always keep something to yourself,
That you would not tell to anybody;
Conceal yourself as best as you can,
From critical dissection:
But thoroughly inspect every other man
With sly and thorough inspection.

The sacred flame of well-placed love -
Luxuriantly indulge it;
But never attempt the illicit rove,
Though no one will ever divulge it;
Ignore the quantum of the sin,
Or the hazards of the concealing;
Such practice hardens the soul within,
And petrifies our feeling!




Robert Burns