NO HUMAN LIFE IS EVER REALLY FINISHED AS LONG AS THERE IS SOMEONE TO REMEMBER IT
In his book A Game Plan for Life, with Don Yeager, Coach Wooden describes the seven people who had the biggest influence on him. Included in this list are two famous historical figures, Mother Teresa and Abraham Lincoln. At the top of his list, however, was his father, Joshua, a masseuse at a hot springs spa in Martinsville, Indiana.
When I teach the John R. Wooden Course, I usually start with a discussion in which each individual describes a person in their life who has had the biggest influence on them, and what they learned from that person.
Often, the person they talk about is deceased. The deceased person they describe might be a grandmother, a grandfather, a parent or a friend. Although that person is no longer present physically, their spirit and influence lives on.
The next question we discuss is a bit more difficult. I ask the participants to describe a person they are having an influence on or mentoring, and what is that person learning from them?
These are two great questions to ask yourself.
Coach Wooden positively affected the lives of millions of people. Over the course of his lifetime, Coach sent out more than 75,000 Pyramids of Success, just responding to requests he received personally.
His influence started with just one person: his father.
I believe all of us have the opportunity to have a significant, positive influence on at least one person in our lifetime.
It's an opportunity we don't want to miss out on.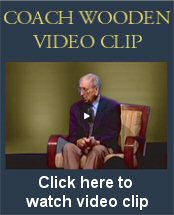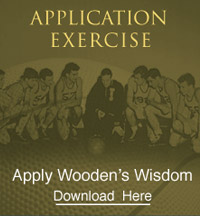 COACH'S
Favorite Poetry
AND PROSE
Letter to a Young Friend
(Part Two)
To catch Dame Fortune's golden smile.
Assiduously wait upon her;
And strive for wealth using every wile
That can be justified by honor:
Not so you can hide it in a hedge,
Nor spend on a servant-attendant;
But only for the glorious privilege
Of being free and independent.

The fear of Hell is a hangman's whip
To hold the miscreant in order;
But the moment you sense your honor to slip.
Let that point be your border:
At its slightest touch, instantly pause-
Discard all sly pretenses;
And resolutely follow all the laws,
Unmindful of the consequences.

The great Creator that we all revere
Must surely become the creature;
And yet the preaching cannot forbear,
And even the rigid feature:
Yet never with wits profane to range
Be complaisance extended;
An atheist's laugh is a poor exchange
For Deity offended!

When playing about in pleasure's ring,
Religion may be blinded;
But if life gives a random sting,
Religion may be little minded;
But when in life we are tempest-driven –
With a conscience like a canker –
A relationship fixed in Heaven
Is surely a noble anchor!

Goodbye – fair and amiable youth!
I hope your heart is never wanting,
May wisdom, fortitude and truth,
Erect your brow undaunting!
As a plowman says "God send you speed,"
And that you daily grow wiser;
And I pray you heed wise counsel,
Better than did this adviser!




Robert Burns