THERE IS A WONDERFUL, ALMOST MYSTICAL, LAW OF NATURE THAT SAYS THREE OF THE THINGS WE WANT MOST - HAPPINESS, FREEDOM AND PEACE OF MIND - ARE ALWAYS ATTAINED WHEN WE GIVE THEM TO OTHERS
Here are some key ideas regarding the three things we want most:
Happiness: Those who bring sunshine into the lives of others, cannot keep it from themselves. - James M. Barrie
Freedom: For to be free is not merely to cast off one's chains, but to live in a way that respects and enhances the freedom of others. – Nelson Mandela
Peace of Mind: When we feel love and kindness toward others, it not only makes others feel loved and cared for, but it helps us also to develop inner happiness and peace. - H. H. the Dalai Lama
In his book The Essential Wooden, with Steve Jamison, Coach expanded on the idea:
It has been my experience that doing good for others brings great inner peace, even joy, especially when done without thought of getting something back in return. Expecting so much as a thank you diminishes the joy of giving and helping others. At least it does for me.
"A day lived without doing something good for others is a day not worth living." Mother Teresa wrote those words - and I believe those words to be true.
In the book A Game Plan for Life, former LSU Coach and John Wooden mentee Dale Brown shared the most important lesson he learned from Coach Wooden:
The greatest lesson I learned from Coach was to love what you were doing every day, and to love people. Many times when the waiter was pouring water for us in a restaurant, Coach would say "thank you" while everyone else at the table just kept talking. Everyone felt his love for people - from those he didn't really know, to his buddies.
Coach often told me that fame, fortune and power are not success, that three of the things we want most - happiness, freedom, and peace of mind - are always attained when we give them to others.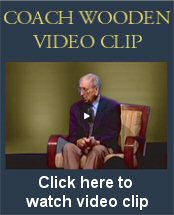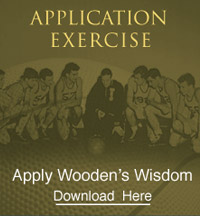 COACH'S
Favorite Poetry
AND PROSE
The Road Not Taken
Two roads diverged in a yellow wood,
And sorry I could not travel both
And be one traveler, long I stood
And looked down one as far as I could
To where it bent in the undergrowth;

Then took the other, as just as fair,
And having perhaps the better claim,
Because it was grassy and wanted wear;
Though as for that the passing there
Had worn them really about the same,

And both that morning equally lay
In leaves no step had trodden black.
Oh, I kept the first for another day!
Yet knowing how way leads on to way,
I doubted if I should ever come back.

I shall be telling this with a sigh
Somewhere ages and ages hence:
Two roads diverged in a wood, and I—
I took the one less traveled by,
And that has made all the difference.




Robert Frost