HE WHO IS REALLY KIND CAN NEVER BE UNHAPPY, HE WHO IS REALLY WISE CAN NEVER BE CONFUSED, HE WHO IS REALLY BRAVE IS NEVER AFRAID
Kindness, wisdom and bravery - what a great combination!
On March 29th, 1975 in San Diego, Coach Wooden found himself in a bit of a pickle. It was the semifinal game for the national championship and UCLA trailed Louisville 74-73 with 20 seconds to go in overtime.
UCLA had the ball and there was a timeout. Coach Wooden would have to decide which player would take the final shot. We would all expect Coach Wooden to be wise, his teams had already won nine national championships, and brave, he was well known as a fearless competitor. But for Coach Wooden, kindness also entered the equation in making this selection.
Always considerate of others, Coach wanted to make sure he picked a player who he if missed the final shot would not be crushed emotionally, feeling that he had choked and blown UCLA'S chance for a 10th national championship.
Coach chose his skilled but easy going sophomore Richard Washington for the task.
In his book with Jay Carty, Coach Wooden's Pyramid of Success: Building Blocks for a Better Life, Coach expanded on his decision:
We set up a play for Richard Washington. Afterward a reporter asked, "Why did you pick Washington?" I replied, "Because he's not afraid to make a mistake. He thinks he's a pretty good shooter - and he is - but if he misses he'll think, well, you can't make them all. He won't be devastated. Therefore, he's harnessed his fear. The others might be thinking, I've got to make it. If that's their thinking, they'll be fearful about missing. I didn't want that. I went with Richard.
Richard Washington made a baseline jump shot with two seconds to go to win the game 75-74. On Monday night, UCLA beat Kentucky to win its 10th National Championship in John Wooden's final game.
Coach was once asked how his former players would describe him in one word. He replied:
I hope they would say I that was very considerate of all of them. I hope they'd say I loved them all.
Indeed he was considerate; even with the National Championship on the line, and there was no doubt about the love.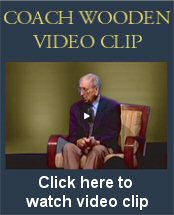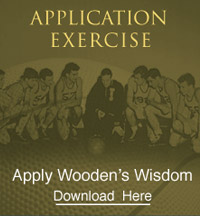 COACH'S
Favorite Poetry
AND PROSE
The Summer Day
Who made the world?
Who made the swan, and the black bear?
Who made the grasshopper?
This grasshopper, I mean--
the one who has flung herself out of the grass,
the one who is eating sugar out of my hand,
who is moving her jaws back and forth instead of up and down--
who is gazing around with her enormous and complicated eyes.
Now she lifts her pale forearms and thoroughly washes her face.
Now she snaps her wings open, and floats away.
I don't know exactly what a prayer is.
I do know how to pay attention, how to fall down
into the grass, how to kneel in the grass,
how to be idle and blessed, how to stroll through the fields,
which is what I have been doing all day.
Tell me, what else should I have done?
Doesn't everything die at last, and too soon?
Tell me, what is it you plan to do
With your one wild and precious life?



Mary Oliver