AN EXAMPLE OF A GREAT ROLE MODEL FOR YOUNG PEOPLE

On Friday, October 9, 2015 my dear friend Dave Meyers, the star player on John Wooden's 10th and final national championship basketball team at UCLA, passed away after a lengthy battle with cancer. He was 62.
In that 1975 National championship game Dave scored 24 points and took down 11 rebounds.
After that '75 season Dave, a 6-foot-8 forward, was named a consensus All-American and became the second pick in the NBA draft. In 1980, after five productive years in the NBA, Dave retired to spend more time with his family.
Dave helped me direct our summer basketball camps for youngsters ages 6 to16 from 1982 to 2008.
I never met a better model for young people than Dave. He was never a critic.
The camps were conducted at various high schools during August in Southern California. The activities were held in the gym and on the outdoor courts. Due to the heat, understandably, coaches would prefer to run their instruction groups in the gym as opposed to outside.
Camp would start and Dave would enthusiastically announce: I've got group one (the youngest campers) let's go outside and play some basketball! Group one would sprint to the outdoor courts chasing their 6 foot 8 NBA role model as though they were headed for courtside seats.
Dave modeled a positive attitude!
Once outside in the sun, Dave was nonstop; teaching every six year old the correct way to play as though the future of the game itself depended on their success. Dave never got angry, he never got frustrated, he was never critical and he never said or thought they were too little to learn.
Dave modeled patience.
One day it got so hot we had to take Dave's group to a classroom for a Popsicle break and some video. I asked Dave to take a break and a camp coach took over and put on an NBA Best Dunks Video.
I went back to the classroom 10 minutes later. I ducked my head in to see that Dave had replaced the dunk video with a video of that 1975 National Championship game (Meyers: 24 points/11 rebounds). The campers were in awe seeing their very own Coach on TV!
Dave was not bragging about his great game. I listened as Dave pointed out each and every mistake he had made in the game while showing the correct way and assuring the campers they could do it if they just listened and learned.
Dave modeled humility and love.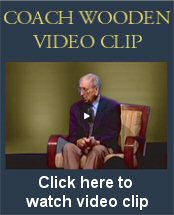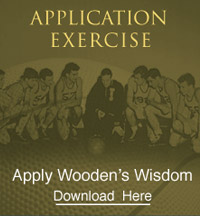 COACH'S
Favorite Poetry
AND PROSE
The World is Mine
Today on a bus, I saw a lovely maid with golden hair
I envied her, she seemed so gay, and I wished I were as fair.
When suddenly, as she rose to leave, I saw her hobble down the aisle
She had one foot and wore a Crutch, but as she passed, a smile.
O God, forgive me when I whine
I have two legs, the world is mine!

And then I stopped to buy some sweets
The lad who sold them had such charm
I talked with him, he seemed so calm, and if I were late it would do no harm,
And as I left he said to me "I thank you, you have been so kind"
It's nice to talk with folks like you. You see, I'm blind
O God forgive me when I whine
I have two eyes, the world is mine

Later walking down the street, I saw a child with eyes of blue
He stood and watched the others play; it seemed he knew not what to do
I stopped a moment, then I said, why don't you join the others dear"
He looked ahead without a word, and then I knew he could not hear
O God forgive me when I whine
I have two ears, the world is mine

With legs to take me where I'll go
With eyes to see the sunsets glow
With ears to hear what I would know
O God forgive me when I whine
I'm blessed, indeed, the world is mine



Joy Lovelet Crawford