HUSTLE MAKES UP FOR MANY A MISTAKE
One of the definitions of hustle in the dictionary is: to play a game or sport in an alert, aggressive manner. It comes from the Dutch word husselenw (1720) which means: to shake.
It is true that when somebody plays in an alert, aggressive manner they usually shake things up.
Legendary Boston Celtics player and coach Bill Russell said:
Some people like to say that a player isn't very talented but he hustles. I disagree with that statement, because the ability to hustle is a talent.
My dear friend, the late great Jim Harris (Head Coach at Ocean View High School for 33 years), put it this way when describing his program:
Ocean View Basketball
: Where hustle is a talent!
Coach Wooden defined success this way: Success is peace of mind attained only through self satisfaction in knowing you made the effort to do the best of which you're capable.
Your level of hustle is quite simply your level of effort. When you hustle and give your total effort, you are a success!
Sometimes people describe a person who hustles by saying: he gives 110%. In his book: A Lifetime of Observations and Reflections on and Off the Court with Steve Jamison, Coach Wooden expressed a different view:
110% is not the goal. The players were charged with trying to improve a little each day, trying to get closer to becoming their best.
I tried to be honest with them in letting them know they wouldn't reach perfection. But I was also honest in saying that I expected them to give everything they had in trying to reach perfection.
That's what we worked toward. Let's see how close we can get. We won't reach 120 percent, or 110 percent, but how close to 100 percent of our potential can we get?
That was my challenge to them: how close can we get to perfect? When individuals are sincerely motivated to take up that challenge, the results are astonishing.
Things may come to those who wait, but only the things left by those who hustle.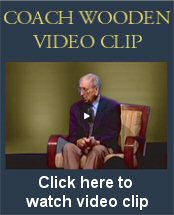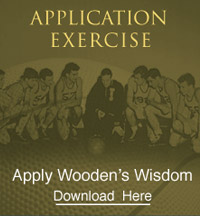 COACH'S
Favorite Poetry
AND PROSE


The Great Competitor
Beyond the winning and the goal,
Beyond the glory and the fame,
He feels a flame within his soul,
Born of the spirit of the game.

And where the barriers may wait,
Built by the opposing gods,
He finds a thrill in bucking fate
And riding down the endless odds.

Where others wither in the fire,
Or fall below some raw mishap,
Where others lag behind and tire,
Or break beneath the handicap,

He finds a new and deeper thrill
To take him on the uphill spin,
Because the test is greater still
And something he can revel in.

Grantland Rice