KEEP A CHEERFUL, OPTIMISTIC DISPOSITION - THINK POSITIVELY RATHER THAN NEGATIVELY - SINCERE OPTIMISM BUILDS CONFIDENCE AND COURAGE
It was a gloomy practice floor in Malibu, California at Pepperdine's Firestone Fieldhouse on January 28, 1980. I was in my first year as an assistant coach with first year head coach Jim Harrick.
After a promising preseason, including wins over Long Beach State, Oklahoma and Kansas, we had just lost the day before to Gonzaga, which dropped our league record to a disastrous one win and five losses.
I was a little surprised to see Coach Harrick run onto the court with a big smile as he called us all in for a pre-practice huddle.
Gentleman, he said enthusiastically, it's great to be alive when you're one and five.
Eighteen long faces turned into eighteen smiles. Led by the cheerful, optimistic disposition of our leader, we won eight of our last 10 league games.
The following season Pepperdine tied for the league championship and the season after that, for the first time since 1962, won the title outright.
Optimism is a powerful platform to build on. It develops confidence, courage and a culture that attracts the best talent.
In his book Coach Wooden's Leadership Game Plan for Success, Coach Wooden put it this way:
Those who prevail in a competitive environment look fate in the eye and say, "Welcome." Then they move ahead without complaint, excuse or whining. It is inevitable in leadership and in life that events occur that seem utterly incomprehensible and unfair.
While we can't control fate, we can control how we react to the hand we're dealt. In leadership, your reaction is crucial because the team will follow your example.
Be a realistic optimist and remind yourself that things turn out the best for those who make the best of how things turn out.
Remember: It's great to be alive when you're one and five.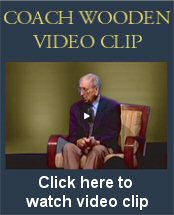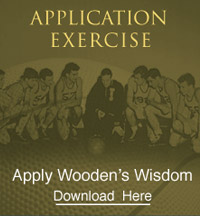 COACH'S
Favorite Poetry
AND PROSE
"DID" is a word of achievement.
"WON'T" is a word of retreat.
"MIGHT" is a word of bereavement.
"CAN'T" is a word of defeat.
"OUGHT" is a word of duty.
"TRY" is a word for each hour.
"WILL" is a word of beauty.
'CAN" is a word of power.
A.S. Steb
*****************

Getting together is a BEGINNING
Keeping together is PROGRESS
Working together is SUCCESS
*****************
C – Concentration
H – Heart
A – Attitude
M – Modesty
P – Practice
S -- Sacrifice