ARRIVE EARLY
It was October 17th, 1974 at 2:15 P.M. The television crew on campus at UCLA filming a special on UCLA Basketball featuring their coach John Wooden, was surprised when the Coach advised them he would have to leave.
The film crew had arrived late but anticipated they would have extra time to work since practice did not start until 3 P.M. They had heard that Coach usually liked to be seated courtside for practice at 2:30 P.M. in case any of his players wanted to stop by and visit with him.
They had heard incorrectly. Coach did not usually like to be seated courtside at 2:30, he was always seated courtside at 2:30; 100% of the time.
It was December 4, 2004.This was an exciting evening for me.There I sat with John Wooden in his hotel room at the Anaheim Hilton, with the prospect of being his escort for the evening.
It was 4:15 PM and I knew I would have plenty of time to visit with Coach since the charity dinner did not start until 7 P.M. preceded only by a celebrity reception from 5 P.M to 7 P.M at which Coach was expected to pop in and make a brief appearance at his convenience.
I was surprised at 4:30 when Coach advised me it was time to go. We arrived at the reception at 4:40. Coach got himself situated and got to know the hotel employees who were doing the setup for the event.
The attendees for the reception began arriving at 5:15 and were quite surprised to see the guest of honor waiting to greet them.
John Wooden had only one arrival time: Early.
When you arrive early, it communicates that you respect the other person and that you feel their time is as valuable as your time. Arriving early also presents you as somebody who is organized, reliable and responsible.
This habit is one way to get any meeting off to a great start.
Arriving early demonstrates what Coach Wooden was most concerned with: being considerate of others.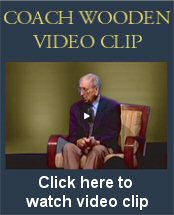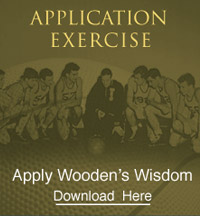 COACH'S
Favorite Poetry
AND PROSE
THE PENALTY OF LEADERSHIP
(Part Two)
The leader is assailed because he is a leader, and the effort to equal him is merely added proof of that leadership.
Failing to equal or to excel, the follower seeks to depreciate and to destroy – but only confirms once more the superiority of that which he strives to supplant.
There is nothing new in this. It is as old as the world and as old as human passions – envy, fear, greed, ambition and the desire to surpass.
And it all avails nothing. If the leader truly leads, he remains – the leader. Master-poet, master-painter, master-workman, each in his turn is assailed, and each holds his laurels through the ages.
That which is good or great makes itself known, no matter how loud the clamor of denial. That which deserves to live – lives. "




Cadillac Motor Car Division 1915