HOW COACH WOODEN HANDLED HIS COACHING MISTAKES
A mistake is valuable if you do four things with it: recognize it, admit it, learn from it, forget it. – John Wooden
In 1981, Pepperdine volleyball coach Marv Dunphy interviewed Coach Wooden extensively for his PhD dissertation entitled: John Robert Wooden: The Coaching Process. The following is an excerpt from Coach Wooden's response to Coach Dunphy regarding Coaching Mistakes:
It is hard for a person to admit their own coaching mistakes. Occasionally, when things go wrong, it is not necessarily because of coaching mistakes. When you make a decision you should be making it with a background of reasons. If you think this is the thing to do at this particular time and it doesn't work, that doesn't mean it was wrong. Maybe the execution wasn't right. Sometimes something that you tried just wasn't right, execution wasn't too bad, but it just wasn't right. You have to be able to observe these situations and make notes of them.
In order to learn and benefit from a mistake, we must carefully analyze what went wrong. It is a mistake in business and sports to just abandon a strategy because: "it didn't work."
Coach Wooden's strategy of a full-court pressing defense resulted in a blowout loss to Arizona State in the first game of the 1963 NCAA Western Regional Tournament. After careful analysis, as opposed to abandonment, the same strategy with some adjustments led to National Championships in 1964 and 1965.
Coach also commented on sharing Coaching Mistakes with the team:
Sometimes we would share our mistakes with the players, other times not. They were not dummies, by any means. I think if you are reluctant, if you're trying to give them the idea that you never make mistakes, you'll lose respect. Respect is something that has to come from how you treat them, how you treat the game itself and your preparation. It cannot be demanded from the players.
Trust, loyalty and respect must be given before you get it. As Coach liked to say:
A person can make mistakes, but they are not a failure until they blame others.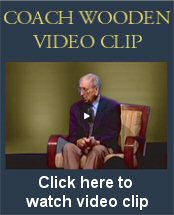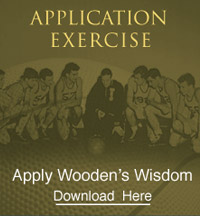 COACH'S
Favorite Poetry
AND PROSE
From Phi Delta Kappa
"Then let me feel, when work is done
Fulfilled the mission planned for me,
As drops the oak in storm or sun,
Cared not the place where that may be;
But let me live without regret,
In hearts and lives that I have met."




From Abigail Cresson
"Though I am beaten
No one shall guess;
For I shall walk
As though I knew success"