DO NOT NEGLECT THE LESS GIFTED FOR THE MORE GIFTED
Coach Wooden gave a list of ten rules to the Coaches who worked his basketball camps.
Rule #4 was: Show great patience and do not expect too much too soon.
Rule #5 was: Do not neglect the less gifted for the more gifted.
André Bessette was born in Quebec in 1845. He was the eighth of 12 children (four of whom died in infancy). He was so frail when he was born that he was baptized "conditionally" completing an emergency ritual performed at his birth.
When Andre was nine years old his father Isaac, a lumberman, lost his life in an accident, crushed by a falling tree. His mother found herself widowed at the age of forty with ten children in her care. She died of tuberculosis within three years, and Andre found himself orphaned at the age of twelve.
The pastor of his parish presented Andre to the Congregation of Holy Cross in Montreal. He was rejected by the order because of frail health. The Archbishop of Montreal intervened on his behalf, and in 1872, Andre was accepted.
Because he was less gifted, Brother André was given limited duties: doorman, sacristan, laundry worker and messenger.
On his many visits to the sick in their homes, Brother Andre would rub the sick person lightly with oil taken from a lamp burning in the college chapel and recommend them in prayer to St. Joseph. People claimed that they had been cured through the prayers of the good Brother and Saint Joseph.
When an epidemic broke out at a nearby college, André volunteered to nurse. Not one person died. The trickle of sick people to his door became a flood.
"I do not cure," he said again and again. "St. Joseph cures." In the end he needed four secretaries to handle the 80,000 letters he received each year.
Brother Andre died in 1937, at the age of 91. A million people filed past his coffin.
Pope Benedict XVI , formally declared sainthood for St. Andre in 2010.
We should not neglect those we believe are less gifted. As Zig Ziglar loved to remind us: God don't make no junk.
Is there somebody you're neglecting?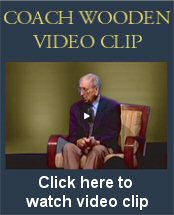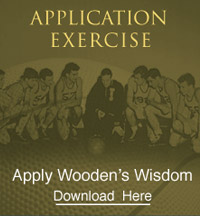 COACH'S
Favorite Poetry
AND PROSE
I Believe
I believe in the greatness of the individual, and that I am in this world for a purpose; that purpose being to put back into life more than I have taken out.
I believe in the integrity of other people, assured that they try as hard to follow the gleam, even as I.
I believe in the gallantry of older people whose seasoned experience and steadfast devotion has preserved for me the precious heritage of the past.
I believe in the magnificence of the past, knowing that without its storied wealth I would possess nothing.
I believe in the challenge of the future, fully realizing that there will be no future except as it becomes alive through me.
I believe in the contagion of health, and that I can spread it through cheerfulness, wholesome habits, sensible expenditure of energies and wise use of foods.
I believe in the nobility of work as the creative expression of the best within me, and as my share in easing the common load of all.
I believe in the enrichment of play and laughter as the means of cleansing my body of staleness and my soul of bitterness.
I believe in God, who justifies all of these beliefs; He is still the small voice within, ever urging me toward the unattained. Since He cares for these things, I believe that even death cannot steal these precious possessions from me.
And what evermore I believe is intertwined in those precious feelings that lie too deep for words.

Anonymous

The essence of a person is best revealed by what they believe in;… What they are FOR, not what they are against.