DON'T LET WINNING CHANGE YOU
NCAA Men's Basketball Championships, Los Angeles, California; Friday March 22, 1972: John Wooden was the Coach of the UCLA Bruins Men's Basketball team. His teams had won the last five national championships in a row and seven of the last eight. Marlon Brando dominated the cinema with the Godfather and Wooden's Team would continue to dominate college basketball by winning their sixth championship in a row Monday night.
The National Tournament was also the convention site for the National Association of Basketball Coaches. John Wooden entered the ballroom where the annual registration was taking place. Coach Wooden got in line with everybody else to register.
The line was enormous. John Wooden, a participant in the tournament, is at the back of the line. The coaches are urging him, "Coach, go to the front of the line, pay your dues and get out of here." He won't do that. He stands in the line for an hour and a half to pay his $20 dues.
Winning didn't change him.
NCAA Men's Basketball Championships Greensboro, North Carolina; Saturday Morning March 23, 1974. Wooden's Teams have now won nine national championships, seven in a row. Hank Aaron broke Babe Ruth's home run record and Wooden's teams had continued to break their own. Wooden's team will play North Carolina State that night in the semifinals.
The group of high school coaches having breakfast in the hotel coffee shop are astounded when John Wooden approaches their table and asks: "Do you mind if an old man joins you?"
He ends up talking with them for about ninety minutes, about basketball, life in general, religion and all sorts of things.
At one point Mike Tschirret, one of the coaches, asked, Coach, don't you have anything better to do than talk to a bunch of high school coaches - especially when you have to play such an important game today?
Coach just smiled and said: I can't think of anything I'd rather do.
Winning didn't change him.
Coach Wooden put it this way: When a person changes, he or she usually ends up with a feeling of superiority. I didn't want that to happen to my players, and I didn't want that to happen to me.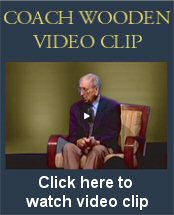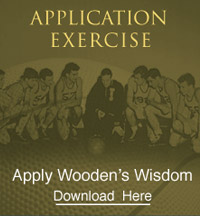 COACH'S
Favorite Poetry
AND PROSE
Message of a Gymnast
You who are a gymnast and comrades of a quest
You who are athletes yet unlike the rest
Listen to the words of one who has flown
For my words are a key to the victory I've known

To hope and to pray will not get you by
For a bird without wings cannot hope to fly
Build on your strengths and hide what is weak
As a mountain hides pebbles yet shows off its peak

None has succeeded who has not ever failed
And you will know both for they walk the same trail
Strengthen your body but neglect not your mind
For they are not separate, a fact you will find

Repetition, repetition, repetition, I repeat
Is the best method known for mastering a feat
So give your best effort and be satisfied
For not more can you give it your best you have tried

It is said of the winner he's not born but made
Yet who is the maker of this double "A" grade
Of all that I know there is nothing more true
"If all winner you are then the maker is YOU"

And should you know victory forget not the rest
Who aided your growth when you started your quest
Individuals are unique but it's team that counts
For unity is strength and yields more amount




Robert Harden