ESTABLISHING ROLES AND MAKING SURE EACH PERSON KNOWS THEIRS IS IMPORTANT
Jennifer sat quietly without much enthusiasm for the workday ahead. It would be her first day on the job as a receptionist for American Agencies, a small personnel placement company with 25 employees.
Jennifer was surprised when she was informed that the owner of the company wanted to meet with her one-on-one to discuss her role on the American Agencies team.
Jennifer, you are not our receptionist, the owner began, you are our first contact team. You are the first person our customers talk to and your attitude will determine what their first impression is of our whole company. If you are positive and enthusiastic we get off to a great start!
Five years later the company had grown to 400 team members and Jennifer was the Head Coach of the First Contact Team: eight dynamic individuals who knew how important their clearly defined roles were.
In Marv Dunphy's PHD Dissertation, John Robert Wooden: The Coaching Process, Coach Wooden described his view on establishing roles:
Individual roles were discussed in one to one meetings. Some roles are more significant than others, but all must receive recognition. It takes a lot of little things to make one big thing. You miss one little thing and the whole big thing will collapse.
Coach used the analogy of a race car and pointed out that a bolt that keeps a wheel on the car is just as important as the powerful engine that runs it.
Remember Coach Wooden's definition of a team: A group of individuals who are committed to fulfilling roles so that the group may succeed.
Give each team member your time, attention and encouragement.
Hold your team members accountable, but give them freedom to grow – don't micromanage them! Give them chances to invent new and better ways to do their job.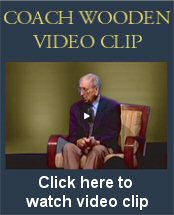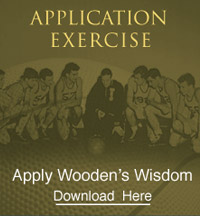 COACH'S
Favorite Poetry
AND PROSE
Mother Stewart's Prayer
Keep us, O God, from all pettiness.
Let us be large in thought, in word, in deed.
Let us be done with fault-finding and leave off all self-seeking.
May we put away all pretense and meet each other face to face, without self-pity and without prejudice.
May we never be hasty in judgment, and always be generous.
Let us always take time for all things, and make us to grow calm, serene and gentle. Teach us to put into action our better impulses, to be straightforward and unafraid. Grant that we may realize that it is the little things of life that create differences, that in the big things of life, we are as one.
And, O Lord God, let us not forget to be kind!
Amen.