EVERYONE IS A TEACHER TO SOMEONE
Back in 1993, then NBA All Star Player Charles Barkley starred in a Nike commercial where he spoke these words, punctuated with shots of him dribbling and dunking a basketball:
I am not a role model. I am not paid to be a role model. I am paid to wreak havoc on the basketball court. Parents should be role models. Just because I can dunk a basketball does not mean I should raise your kids.
In his book with Don Yeager, A Game Plan for Life, Coach Wooden provided his insight:
Barkley is absolutely right on one point: parents should step up to their responsibilities and take charge of bringing up their children.
But the rest of us have a responsibility too, and that responsibility is to reach out to others to share our own life experiences, successes and pitfalls.
Some parents are perfect mentors, but that shouldn't stop a person from looking to other people for additional mentoring; some parents refuse to take their job seriously, and then our job as mentors becomes more important.
Do any of us really have a choice as to whether a child looks up to us? Do we have any control over another person's choice to look to model themselves after our own lives?
Coach Wooden once said:
The most important profession in the world is parenting. The second is teaching and everyone is a teacher to someone.
Coach had two favorite verses on this idea:
More often than we e'er suspect, the lives of others we do affect.
And
No written word or spoken plea
Can teach our youth what they should be.
Nor all the books on all the shelves.
It's what the teachers are themselves.
All of us are teaching somebody every day by our example. Who are you teaching? What are you teaching them?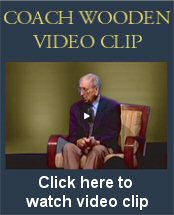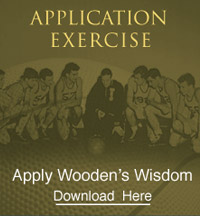 COACH'S
Favorite Poetry
AND PROSE
AMERICAN INDIAN PRAYER
Oh, Great Spirit,
whose voice I hear in the winds
and whose breath gives life to all the world, hear me.
I am small and weak.
I need your strength and wisdom.

Let me walk in beauty and make my eyes
ever behold the red and purple sunset.
Make my hands respect the things you have made
and my ears sharp to hear your voice.
Make me wise so that I may understand
the things you have taught my people.
Let me learn the lessons you have hidden
in every leaf and rock.

I seek strength, not to be superior to my brother,
but to fight my greatest enemy - myself.
Make me always ready to come to you
with clean hands and straight eyes,
so when life fades, as the fading sunset,
my spirit will come to you
without shame.




American Indian - Lakota - Chief Yellow Lark - 1887