GOAL SETTING
Studies have shown that when we tell children: "You're so smart!" after they've completed a puzzle, they're less likely to attempt a more difficult puzzle later. That's because children are worried that if they don't do well, we'll no longer think they're "smart."
Those same studies showed that when we focus on the effort — "Wow, you really tried hard on that!" — children are far more likely to attempt a more challenging puzzle the next time.
John Wooden's assistant coach Bill Putnam described how Coach Wooden applied this same logic with goal setting for his teams:
Coach Wooden did not set formal goals in the traditional sense. There were no standards espoused for statistics such as points, assists, rebounds, turnovers or wins and losses. He much preferred that the players pursued the limits of their abilities.
In Marv Dunphy's PHD Dissertation John Robert Wooden: The Coaching Process, Coach Wooden described how he set goals for his teams:
I think we had a common team goal among each individual. My definition of success is the peace of mind which can be obtained only through self-satisfaction in knowing that you made the effort to do the best of which you are capable.
You can't do anything about the other fellow, but you can or should be able to do something about yourself. This is what I wanted --- each individual to gain that personal satisfaction, the peace of mind that comes from knowing that you made the effort to do the best that you're capable of doing.
Maybe that's not nearly as good as someone else, but if it's the best that you're capable of, you're just as successful as anyone. No one can do any more than that, so I tried to use that as my personal goal. I never mentioned winning.
If you set goals that are so idealistic that there's no possibility of reaching them, you will eventually become discouraged and quit. They become counterproductive. They stifle initiative. On the other hand, if a goal is too simple, then it is achieved too easily. Without a stretch there is little reward. In fact, difficult, yet realistic goals produce purpose-directed lives.
If John Wooden's teams had not won seven consecutive national championships, with the next best ever two, many traditional thinkers in business and sports would doubt that this idea works.
Are the goals you are setting for yourself and your team inspiring everybody to pursue the limits of their abilities, or are they stifling initiative?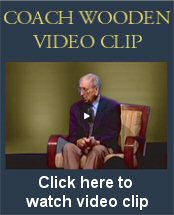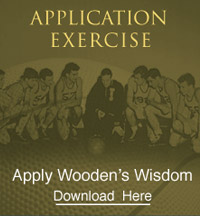 COACH'S
Favorite Poetry
AND PROSE
RISKS
To laugh is to risk appearing the fool.
To weep is to risk appearing sentimental.
To reach out for another is to risk involvement.
To expose feelings is to risk exposing your true self.
To place your ideas, your dreams, before a crowd is to risk their loss.
To love is to risk not being loved in return.
To live is to risk dying.
To hope is to risk failure.

But risks must be taken.
Because the greatest hazard in life is to risk nothing.
If you risk nothing and do nothing, you dull your spirit.
You may avoid suffering and sorrow, but you cannot learn, feel, change, grow, love and live.
Chained by your attitude, you are a slave.
You have forfeited your freedom.




(excerpt from: "Living, Loving, Learning" by Leo Buscaglia - Slack)