RECRUITING THE WOODEN WAY
LSU Basketball coach Dale Brown had just spent five days, ten hours a day, with John Wooden, asking him a carefully planned list of questions regarding every aspect of what it would take to have a successful college basketball program.
As Coach Brown got ready to leave for the last time, Coach Wooden simplified his advice:
Dale, if you do the following three things you will be successful in major college basketball. If you don't do them, it will be most difficult.
1. Make certain you always have better players than anybody you play.
2. Make sure you always get the better players to put the team above themselves.
3. Practice simplicity with constant repetition.
Former UCLA player Andy Hill wrote an excellent book with Coach Wooden, Be Quick But Don't Hurry, in which they listed twenty one secrets to the success of a team. Secret #1 was:
The team with the best players almost always wins.
The first part of successful recruiting is that you must know what type of people you want on your team.
Bill Marriot was once asked the secret to great customer service at the Marriot Hotels. He replied: We hire nice people.
John Shields, the former CEO of Trader Joe's, grew annual sales from 132 million to more than 2 billion dollars in twelve years by staffing his stores with fun, enthusiastic people. Shields once commented that when he interviewed somebody for retail, he wouldn't hire them if they didn't smile within 30 seconds.
Coach Wooden commented on his selection process:
I consider quickness to be the most important physical asset for an athlete. Second to quickness, I wanted to know what kind of person he was: Was he a team player or could he be made into a team player? Those are the things I looked for first, as far as a prospect.
Coach Wooden once stopped recruiting a top prospect on the spot, because he was disrespectful to his mother.
Coach Wooden commented on his approach to communicating with a player he was recruiting:
I was never a coach who favored aggressive recruiting—I would talk with him honestly and frankly about what might be in store for him if he decided on my school.
Certainly it was a less elaborate recruiting speech than they received at many other universities, but it was very effective, I believe, because it started the coach-player relationship on a note of honesty.
I wanted a player to want to play for UCLA and not one that I had to talk into playing for UCLA. To build a great team, find the kind of people you want to work with and tell them the truth.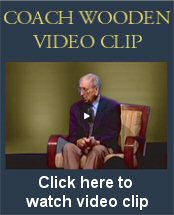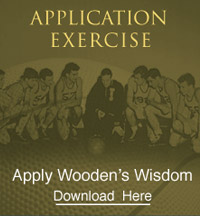 COACH'S
Favorite Poetry
AND PROSE
Rules of the Game
I am giving you the ball, son, and naming you quarterback for your team in the game of life. I am your coach, so I'll give it to you straight.

There is only one schedule to play. It lasts all your life but consists of only one game. It is a long game with no time out and no substitutions. You play the whole game ... all your life.

You'll have a great backfield. You're calling the signals but the other three fellows in the backfield with you have great reputations. They are named Faith, Hope, and Charity.

You'll work behind a truly powerful line. End to end; it consists of Honesty, Loyalty, Devotion to Duty, Self-Respect, Study, Cleanliness, and Good Behavior.

The goal posts are the pearly gates of Heaven.

God is the referee and sole official. He makes all the rules and there is no appeal from them.

There are ten rules. You know them as the Ten Commandments and you play them strictly in accordance with your own religion.

There is also an important ground rule. It is 'As ye would that men should do to you, do ye likewise to them!'

Here is the ball. It is your immortal soul! Hold on to it. Now son, get in there and let's see what you can do with it.



Author Unknown