THERE IS A DIFFERENCE BETWEEN A MANAGER AND A LEADER - A LEADER INSPIRES BY EXAMPLE
If you are not setting an example you are not leading. You may be a person of authority, you may be directing or managing, but you are not leading.
As Coach liked to say: A real leader is much more than simply a person with authority.
A prison guard has authority, but he or she is not a leader. A leader doesn't need a gun to motivate individuals.
A leader, by definition, inspires his or her followers. It is your example that inspires those you supervise, not your instructions.
Ghandhi would not have inspired his followers if he was getting in fistfights. Alexander the Great would not have inspired his troops if he had sat up on a hill and watched the battle.
Managers can create an environment where people do as they are instructed, provided their actions are observed and measured, and they are held accountable.
Leaders create an environment where people go beyond what they are required to do, whether they are being observed or not. They are inspired by the leader's example and want to do likewise.
The lessons of a leader extend beyond their lifetime.
Joshua Hugh Wooden was a quiet man who was a farmer and a masseuse. He was also a leader. He set a great example for his son Johnny, and John Wooden in turn set a great example for the young men he coached.
Coach's example influenced countless people, and their example will influence countless others.
Reaching your personal potential starts with Enthusiasm and Industriousness. Being a leader starts with the example you set.
In his book The Essential Wooden with Steve Jamison, Coach summed it up this way:
"Do as I say, not as I do" is a bad leadership methodology. Words can be powerful, but the power of the individual example - yours - is much greater.
Be hardest on yourself - the model for what you want your team to become. Don't look for others to be your quality control expert. Be your own harshest critic.
Is there someone in your life to whom you would like to provide better leadership? How could you improve the example you set?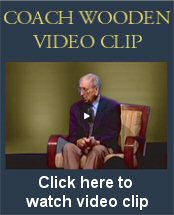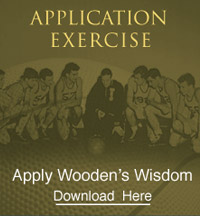 COACH'S
Favorite Poetry
AND PROSE
My Philosophy of Life
Remembering always let it be understood,
That you must do only what you think to be good,
And providing, of course, that your courage keep strong
To never do willingly what you know to be wrong.

You must learn that it's true and really believe
That it's more blessed to give, than it is to receive.
Then, giving all that you have, in whatever you do,
In service for others, will bring success to you.

Is not what you do or get while you live
But what you become and the service you give.
Your doing and getting are but the process of living,
Your success is achieved in becoming and giving.

What kind of person are you becoming each day?
What kind of world will result from your way?
Answer these questions. Put yourself to the test.
By their answers alone can we measure success.



M.M. Want