THE ACCIDENTAL MENTOR
I had just completed conducting a Coaching Clinic at the La Crescenta Family YMCA for 30 coaches who would be coaching teams in the upcoming Y-Winners youth basketball league (ages 6 to 12).
We had discussed Coach Wooden's Love and Balance approach to life. I had emphasized the importance of the coaches maintaining their self control to set a good example and keep their players relaxed, and most importantly, having fun.
A young coach approached me with a serious expression and a heartfelt question: "Coach Impelman, does this mean its okay to be nice when you're coaching?"
"Absolutely", I replied.
The young man continued: "I thought you had to be mean when you coach. You know, yell and scream all the time, curse if you need to and make the players run wind sprints if they get out of line. That's the way my high school coach did it and we won a lot of games. So that's the way I've been doing it."
His high school coach had been his Accidental Mentor. His high school coach had also learned his style from somebody.
The young man, having heard that John Wooden did not yell and scream and curse at his players, was quite relieved. He had a new mentor and would coach this year's sixth graders with a different style.
His sixth-graders this year would have a good mentor. The ten players would grow up and one day, coach their own sixth-grade team. They would know you don't have to be mean when you coach.
The verb mentor is defined as to advise or train. Sometimes we give or receive mentoring as a matter of choice. We can choose personal, professional, leadership or faith mentors for ourselves.
Sometimes we are mentoring whether we choose to or not.
In a speech at Western Michigan, Coach Wooden concluded his presentation by reciting the poem A Little Fellow Follows Me. The last two verses of the poem were:
He thinks that I am good and fine,
Believes in every word of mine.
The base in me he must not see,
That little fellow who follows me.

I must remember as I go,
Thru summers' sun and winters' snow.
I am building for the years to be,
This little chap who follows me.
Coach paused and then added this haunting bit of advice:
And that's just like all of you. You're building somebody. There's somebody watching you. Be careful.
This leaves us with an important question: Who's mentoring you and who are you mentoring?
Accidental mentoring is not always the best. Be careful.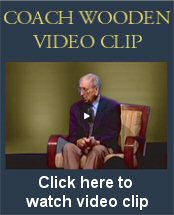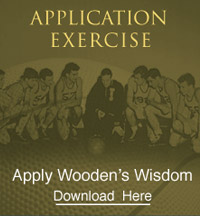 COACH'S
Favorite Poetry
AND PROSE
In Men Whom Men Condemn
In men whom men condemn as ill
I find so much of goodness still.
In men whom men pronounce divine
I find so much of sin and blot
I do not dare to draw a line
Between the two, where God has not.



Joaquin Miller
Man Making
We all are blind until we see
That in the human plan
Nothing is worth the making if
It does not make the man.
Why build these cities glorious
If man unbuilded goes?
In vain we build the world, unless
The builder also grows.



Edwin Markham