THE ONLY TRUE GIFT IS A PORTION OF THYSELF
This famous quote of Ralph Waldo Emerson was a favorite of Coach Wooden's. This key idea is central to successful leadership.
The three key components of a good relationship between a leader and the team, friendship, loyalty and cooperation, can only be developed if the leader gives of him/herself.

When John Wooden coached basketball at UCLA, practice began every day at 3 PM.
The players knew that Coach would be sitting courtside every day at 2:30 PM. He was there in the event they wanted to discuss anything personal, academic or athletic.
They knew he would listen intently and with an open mind. He gave his opinion only if asked and was never judgemental.
They knew he cared about them beyond how many points they could score.
Friendship begins when you can count on the other person always being there.
Loyalty begins when the other person knows you are interested in them beyond what they can do for you.
Cooperation begins when they know you will listen with an open mind.
These three things cannot be given with money, they require a true gift as Mr. Emerson said, a portion of thyself.
Coach set a great example by giving of himself to all with whom he came in contact, not just his basketball teams.
In the book by Pat Williams How to Be Like Coach Wooden, a junior high coach, Bruce Brown recounted his experience with Coach after hearing him speak at a coaching clinic in Seattle.
I found myself last in a long line of coaches. I waited, growing more nervous as the line shortened. When it came my turn to talk to Coach Wooden, I introduced myself as "Bruce Brown, a coach at Hyak Junior high, Bellevue, Washington."
In the excitement of the moment, I do not remember much else of what I said, except something about using his Pyramid of Success for our football and basketball players. He seemed genuinely interested and sincere during the short conversation.
The entire interaction could not have lasted more than two minutes.
About two weeks later I received a letter addressed to "Bruce Brown, Bellevue Junior High, Bellevue, Washington with a UCLA return address. Inside the envelope was a copy of the Pyramid of Success signed, Best Wishes, John Wooden.
What a great lesson in humbleness from the greatest coach of all time. This lesson has stayed with me through three decades of working with young people.
There is no price tag that can be put on us giving of ourself and as Mr. Emerson said, it is a true gift.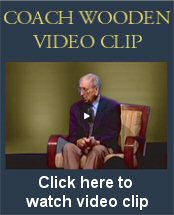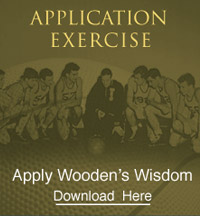 COACH'S
Favorite Poetry
AND PROSE


The Miracle of Giving
Give, and you will get a heap
If you sow, you're going to reap
But remember when you sow
Thorns, as well as roses grow.
Don't sow a thorn and expect a rose
That's against the Master's plan
But plant, instead, good deeds that grows
And glows, and make the woman or man.
Give your best, and sift the rest,
Always sow the seed of Love;
As sure as East is far from West,
A guaranteed Harvest from above.
There's joy in giving, like sowing seeds
Like painting the fields with green
But greater joy blooms with the deeds
When roses set the scene.
Henry Jackson