DISAPPROVAL SHOULDN'T BE DESTRUCTIVE
In the book Life Wisdom from Coach Wooden, Coach discussed the first and most critical part of being an effective leader and teacher who can disapprove without destroying the student:
Approval is a greater motivator than disapproval, but we have to disapprove on occasion when we correct. It's necessary. I make corrections only after I have proved to the individual that I highly value him. If they know we care for them, our correction won't be seen as judgmental.
As it has often been said: "People don't care how much you know until they know that you care."
In his book with Steve Jamison, Wooden on Leadership, Coach comments on other aspects of disapproving without destruction:
When difficulties arose and strong action—or words—were called for, I made it a policy to criticize in private, not in front of others. The rebuke was done without rancor. I was stern, but I did not get personal—no insults, no berating, no anger, no emotion.
When the discussion or action was over, it was all over. We moved on to other business without lingering anger or animosity. I never wanted to embarrass or humiliate.
The purpose of criticism or discipline is to correct, enhance, educate, modify behavior, or bring about positive change.
In providing criticism, you must not open wounds that are slow to heal. An individual subjected to personal insults, especially in front of others, can be needlessly impaired.
Coach added one last idea to the recipe for disapproval without destruction:
I also attempted to combine a compliment with criticism when possible. Most people don't like criticism, even when it's for their own good.
An acknowledgment—praise—offered as part of the criticism reduces their resistance. For example: "I like your aggressiveness on defense. Can I see some of that when you drive to the basket?"
A statement like this is a method of honestly offering a pat on the back while pointing out a problem and how to correct it. The results were usually productive.
Print out this issue and use it as a checklist of reminders to review before you have that next difficult conversation with someone. I believe it will help.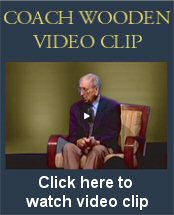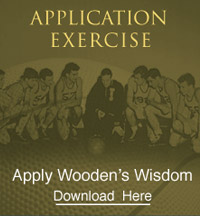 COACH'S
Favorite Poetry
AND PROSE
Some Favorite Thoughts from Coach Wooden's Poetry File
"If your life is unselfish, and for others you live,
For not what you get, but how much you give;
If you live close to God, in His infinite grace,
You don't have to tell it, it shows in-your-face."
**********
"Remember this your lifetime through-
Tomorrow, ther'll be more to do,
And failure waits for all who stay,
With some success made yesterday,
Tomorrow, you must try once more,
And even harder than before."
**********
"The heights by great men reached and kept,
Were not attained by sudden flight,
But they while their companions slept,
Worked toiling upward in the night."
**********
"The man who once most wisely said,
Be sure you're right, then go ahead,
Might well have added this to it,
Be sure you're wrong before you quit."
**********