HOW DO YOU LEAD?
There is no particular personality profile a person has to fit to be a great leader. There is a character profile.
There are many different leadership personalities and Coach Wooden described it this way:
There are so many different types of leadership. We're all different and we get results in different ways. If you try to be something else; well, that's cheating when you try to be something else. You just have to be yourself, not try to be something you're not.
Whether its business, basketball or politics, great leadership has many different styles.
Thomas Jefferson sent his State of the Union address to Congress in writing rather than deliver it in a speech, because he was not a good orator.
Jim Collins, in his book Great By Choice, when comparing the personalities of the seven most effective business leaders in America between 1973 and 2003, put it this way:
Great leaders can be bland or colorful, uncharismatic or magnetic, understated or flamboyant, normal to the point of dull, or just flat-out weird—none of this really matters, as long as they're passionately driven for a cause beyond themselves.
Great leadership does not require a certain personality; it does require a strong will, humility, an open mind and a diverse but powerful combination of those attributes.
A strong will allows the leader to stay true to his or her values, irrespective of the opinions of others.
Abraham Lincoln put it this way:
I desire so to conduct the affairs of this administration that if at the end, when I come to lay down the reins of power and I have lost every other friend on earth, I shall at least have one friend left, and that friend shall be down inside me.
It is humility that causes the leader to not seek credit and thus model teamwork. It is humility that leads to being open-minded, which in turn results in the needed leadership listening skills.
In his pre–season letter to the 1970-71 team, Coach Wooden explains he will be available to listen, but also clarifies his role as a leader:
Come in and talk to me whenever you feel like it, but please remember that it isn't necessarily lack of communication if we fail to agree on your position or the position of another on the team.
It is a difficult balance to demonstrate a strong will, humility and an open mind. The good news is you can just be yourself when you're doing it.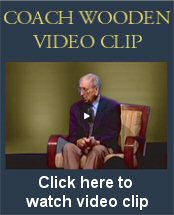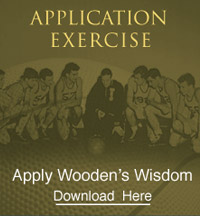 COACH'S
Favorite Poetry
AND PROSE
Some Favorite Thoughts from Coach Wooden's Library
Have courage for the great sorrows of life and patience for the small ones; and when you have laboriously accomplished your daily task, go to sleep in peace. God is awake.

Victor Hugo


It is not work that kills men; it is worry. Work is healthy; you can hardly put more upon a man than he can bear. Worry is the rust upon the blade. It is not the revolution which destroys the machinery but the friction.
Henry Ward Beecher


Pray as though everything depended on God. Work as though everything depended on you.

Saint Augustine


He prayeth best, who loveth best
All things both great and small;
For the dear God who loveth us,
He made and loveth all.

Samuel Taylor Coleridge