DON'T FOCUS ON THE OPPONENT
If you are in coaching and your team often finishes in last place, you will get fired. If you are in business and you are below average in comparison to your competition, you will go out of business. So how we perform as compared to our competition is important.
Coach Wooden studied the best practices of his best competitors in the off-season to improve his craft. The competition can also provide us with benchmarks that demonstrate possible performance levels (not necessarily the best performance levels possible).
Coach didn't believe that focusing on just being better than the competition and what they were doing so he could counteract it, was the best approach to maximize his team's performance.
In his book with Steve Jamison The Essential Wooden, Coach expanded on this idea:
Some knowledge of opponents is useful. At what point does worrying about "them" diminish attention on "us"?
I never pressured our players to win a game. I pressured them to work exceedingly hard to reach their own level of competency, but I never put any pressure on them to beat a particular opponent.
This philosophy was taught to me in large part by my father, who said, "Prepare through hard work; don't worry about whether you're better than someone else; always try to be the best you can be,"
This philosophy eliminates pressure, except for the pressure you put on yourself to think intelligently and work very hard to improve your skills and performance. If you take that responsibility seriously, it's more pressure than anyone else can put on you.
That's productive pressure – the kind that will ultimately produce competitive greatness.
Our players had enough on their hands perfecting my system. Where would they have been if I started teaching them how to react to every little thing the competition might or might not do? It would be a mess.
Let your competition figure you out.
Learn from your competition, but keep the focus of yourself and the team on your consistent best effort and constant improvement. Don't just settle for being number one.
As Coach liked to say: If you do that you'll be pleased with the outcome.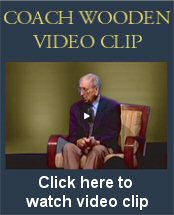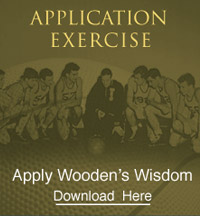 COACH'S
Favorite Poetry
AND PROSE
Some Favorite Thoughts from Coach Wooden's Library
I shall pass this way but once; any good, therefore, I can do or any kindness I can show...let me do it now. Let me not defer or neglect it, for I shall not pass this way again."

Unknown


In my wide association in life, meeting with many and great people in various parts of the world, I have yet to find the person, however great or exalted their station, who did not do better work and put forth greater effort under a spirit of approval than they would ever do under a spirit of criticism.

Charles Schwab


A bit of fragrance clings to the hand that gives you roses.

Chinese proverb


There can be no friendship where there is no freedom. Friendship loves a free air, and will not be fenced up in straight and narrow enclosures.

William Penn


Two persons cannot long be friends if they cannot forgive each other's little failings.

Jean de la Bruyere