KEEPING THINGS IN PERSPECTIVE
Perspective has been defined as: A way of regarding situations, facts, etc., and judging their relative importance.
The day after the San Antonio Spurs were eliminated from the 2016 NBA playoffs, their coach Gregg Popovich gave a group of assembled media that was soeing doom and gloom a different perspective: NASA discovered all those habitable planets the other day. 1200 habitable planets discovered and then last night somebody lost a basketball game. Come on, get over yourself.
As Coach Wooden pointed out in his book Wooden, with Steve Jamison:
We must keep things in perspective. Balance is keeping things in perspective. Don't get carried away if things are going too well or too poorly, don't get carried away, just continue to make the effort to do the best you can at whatever you're doing.
Your strength as an individual depends on how you respond to both criticism and praise. If you let either one have any special effect on you, it's going to hurt you. Whether it's criticism or praise, deserved or undeserved, makes no difference. If we let it affect us, it hurts us.
In Orlando, Florida there was an even more inspiring perspective being demonstrated. The final celebration ceremonies of the Invictus Games were being held. The Invictus Games featured more than 500 ill and injured military veterans from 15 nations who competed valiantly and with a positive attitude in10 different sports. Their joy and passion for life was awe-inspiring.
These men and women demonstrated at the highest level one of Coach Wooden's favorite messages on perspective:
We cannot allow difficulties to discourage us. Roadblocks may cause us to alter our course a bit, but we cannot let them deter us from our destination. I have often said that we grow stronger through adversity.
Abraham Lincoln offered timeless wisdom on keeping the right perspective:
If we magnified our blessings the way we magnify our disappointments, we'd all be a lot happier.
There are always two ways of looking at things:
Two shoe salesmen were sent to a remote island in the South Pacific. One sent a telegram home that said: "Get me home, nobody here wears shoes." The other salesman's telegram said: "Send me all of the shoes you can, nobody here wears shoes."
Whatever situation you're faced with, make sure you're using a perspective that will make you the happiest.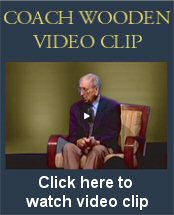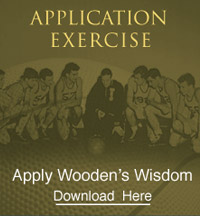 COACH'S
Favorite Poetry
AND PROSE
Some Favorite Thoughts from Coach Wooden's Library
It is my joy in life to find
At every turning of the road,
The strong arm of a comrade kind
To help me onward with my load:
And since I have no gold to give,
And love alone must make amends,
My only prayer is, while I live,—
God make me worthy of my friends!

Frank Dempster Sherman


Let me not to the marriage of true minds
Admit impediments. Love is not love
Which alters when it alteration finds,
Or bends with the remover to remove:
O, no! it is an ever-fixed mark,
That looks on tempests and is never shaken;
It is the star to every wandering bark,
Whose worth's unknown, although his height be taken.
Love 's not Time's fool, though rosy lips and cheeks
Within his bending sickle's compass come;
Love alters not with his brief hours and weeks,
But bears it out even to the edge of doom.
If this be error, and upon me proved,
I never writ, nor no man ever loved.

William Shakespeare