YOU MUST BE PRESENT TO COACH
The management team of Williams's Industries sat anxiously awaiting a major announcement from their new CEO regarding the companywide implementation of a new process that would be driven by a mysterious new application called the FTF APP.
The room was in hushed silence as the new CEO began her speech: You must be present to coach. Today we will begin using the FTF APP. The FTF APP. stands for face to face application. It means instead of sitting in your offices sending countless e-mails to each other with even more carbon copies and blind copies you will stand up and walk down the hallway or across the parking lot and communicate with your teammate face-to-face to resolve issues and come up with the best solutions.
In his 2007 book The Essential Wooden, with Steve Jamison, Coach Wooden explained his perspective on the value of being present when you coach:
A good coach is out on the floor with the team - demonstrating, instructing, correcting, and rubbing and bumping elbows.
Is the same true in your job? How can you be effective if you're hidden away in your office? How do you build relationships if your team members never see you? Or if they never get the chance to rub elbows with you?
A coach who stays in the office sending out memos to the players won't have much of a team. Leadership requires that you lace up your sneakers and get out on the floor.
Coach Wooden was sitting courtside before every 3 PM practice at 2:30 PM in case one of the players wanted to talk to him about anything. A good friend of mine who is a tremendously successful insurance executive is sitting in his office every morning at 7:15 AM before the office opens at 8 AM in case any of his team members want to talk to him about anything. He enjoys next to nothing in terms of turnover with his long term staff. These are both great examples of being present to coach.
The idea of being present to coach is referred to in business education as management by walking around. The general concept of managers making spontaneous visits to employees in the workplace was written about and validated by management consultants Tom Peters and Robert H. Waterman in their 1982 book: In Search of Excellence: Lessons From America's Best Run Companies.
Historian Stephen B. Oates asserts that Abraham Lincoln invented the management style by informally inspecting the Union Army troops in the early stages of the Civil War.
Coach Wooden and Abraham Lincoln once again giving us the same great advice!
Are you present enough in your efforts to coach?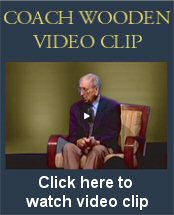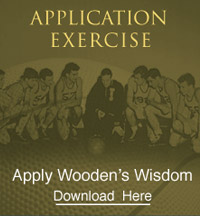 COACH'S
Favorite Poetry
AND PROSE
Some Favorite Thoughts from Coach Wooden's Library

The best preparation for the future is the present well seen to, and the last duty done.

George MacDonald


Look not mournfully to the past, it comes not back again. Wisely improve the present, it is thine. Go forth to meet thy shadowy future, without fear, and with a manly heart.

Henry Wadsworth Longfellow


Hate burns up more energy than anything else, more than hard work, illness or justifiable worry. So when hatred is entering our hearts, let us just put it out, make room for pleasant thoughts instead, save our precious God-given energy for something worthy of it.

Dale Carnegie


PREPAREDNESS
For all your days be prepared
And meet them ever alike:
When you are the anvil, bear –
When you are the hammer, strike.

Edwin Markham