HAVE ONE TEAM WHERE EVERYONE COUNTS
On December 28, 1978, United Airlines Flight 1573, a commercial aircraft DC-8 carrying 181 passengers and 8 crew, crashed outside Portland, Oregon. 8 passengers and 2 crew members died.
The plane crashed because the crew could not get the pilot to listen and act on the fact that they were running out of fuel as they circled above Portland for over an hour while the pilot obsessed over a potential landing gear problem which proved to be insignificant. By the time the pilot listened it was too late.
United flight 1573 was a tipping point. In 1979, the National Aeronautics and Space Administration (NASA) presented research clearly indicating that human error was at the root of the majority of aircraft accidents. Human error consisted of failures of interpersonal communications, leadership and decision making by the crew. A new training program was introduced called Crew Resource Management, CRM.
CRM teaches the entire crew to work together (one team where everyone counts), have input and listen to each other to maximize all resources when dealing with a crisis.
Airline safety has improved by 95% in the last forty years. The chances of dying in an air crash in the US or Europe are estimated to be 29 million to one.
CRM training with its one team where everyone counts approach has made a significant contribution to this improvement. CRM training is currently required by the FAA, JAA (European Aviation Agency) and the US military services.
The healthcare industry has implemented and benefitted a great deal from the one team where everyone counts principles of CRM, especially in the operating room and the trauma bay where it may not always be beneficial if the ER doctor or surgeon assumes a dictatorial pose, preventing the team from sharing critical information.
In John Wooden's basketball program everybody involved was part of one team where everyone counted.
The players who did not play much were never referred to as substitutes and their importance to the team was acknowledged. The student managers who handled the equipment and laundry were treated with the upmost respect by the coaches and players. They were not there to pick up after the players but rather were regarded as equal members of the team with an important job to do.
Assistant coaches were encouraged to disagree and given significant responsibilities during games and practices. The athletic department's staff and all other coaches were treated with dignity and courtesy with no condescension.
Coach believed that this was just common courtesy and part of his core value of treating all people with dignity and respect. Coach also believed when you added others to an endeavor you added strength.
Whenever Coach went out to eat he always would find and give the busboy a tip. He knew the efforts of the busboy were as important as those of the chef.
Coach viewed all members of the human race as one team where everyone counted.
Are you treating anyone like a second class citizen?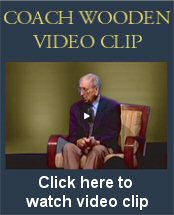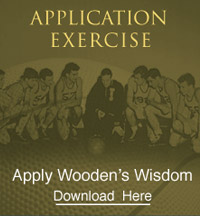 COACH'S
Favorite Poetry
AND PROSE
Some Favorite Thoughts from Coach Wooden's Library

More things are wrought by prayer
Than this world dreams of. Wherefore, let thy voice
Rise like a fountain for me night and day.
For what are men better than sheep or goats
That nourish a blind life within the brain,
If, knowing God, they lift not hands of prayer
Both for themselves and those who call them friend?
For so the whole round earth is every way
Bound by gold chains about the feet of God.-

Alfred Lord Tennyson (1809 -1892) from Morte D'Arthur


Strange that we so seldom recognize happiness until it has passed, that we rarely recognize it when it is on our doorstep.

Dale Carnegie


Chartless
I never saw a moor,
I never saw the sea;
Yet know I how the heather looks,
And what a wave must be.

I never spoke with God,
Nor visited in heaven;
Yet certain am I of the spot
As if the chart were given.

Emily Dickinson (1830 -1886)