IS YOUR AMBITION PROPERLY FOCUSED?
Microsoft, Intel, Progressive Insurance and Southwest Airlines all delivered a return on investment ten times greater than the stock market industry average between 1973 and 2003. The leaders of these amazingly profitable companies had very different personalities. Bill Gates (Microsoft) and Gordon Moore (Intel) led with understated personalities. Herb Kelleher (Southwest Airlines) had a zany and flamboyant personality which often drew attention to himself by his antics. Peter Lewis (Progressive Insurance) was described as a Wildman and a rock star without any musical ability.
What the leaders of these four companies had in common was that their ambition was properly focused. In their book Great By Choice, Jim Collins and Morten T. Hansen describe the ambition of these leaders:
They didn't define themselves by money. They didn't define themselves by fame. They didn't define themselves by power. They defined themselves by impact and contribution and purpose.
These leaders share a most important trait: they're incredibly ambitious, but their ambition is first and foremost for the cause, for the company, for the work, not themselves.
Great players focus on helping their team in any way possible, not just how many points they score or how many minutes they played. Great coaches focus on developing the character of their players, not putting themselves in the spotlight. A great manager is focused on the team doing well, not focused on look what I've done. Great sales professionals focus on getting their customers the best product at a price they can afford, not just getting the biggest commission check possible. Great performers in every walk of life focus on helping others.
In his book Coach Wooden's Pyramid of Success, with Jay Carty, Coach Wooden defined properly focused ambition:
I believe we are most likely to succeed when ambition is focused on noble and worthy purposes and outcomes rather than on goals set out of selfishness. If our ambition is to be highly publicized, receive a lot of recognition, attain a position of power or prestige, or make a lot of money, we do not have noble goals.
If we are focused away from ourselves and on the team and others, we possess noble goals. When we have noble goals, we prioritize the bigger picture. As a result, people with noble goals tend to bring the team or others along with them while they climb the Pyramid of Success. Ambition can be either a good thing or a bad thing. It depends on what we're ambitious about.
If we operate with the selfish personal ambition that is all about us, we might get to the top of the heap, but we will never reach the pinnacle of the Pyramid. Coach had Peace of Mind sitting at the pinnacle of his Pyramid of Success.
What's waiting for you at the pinnacle on your Pyramid of Success?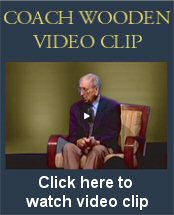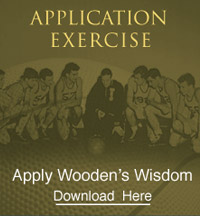 COACH'S
Favorite Poetry
AND PROSE
Some Favorite Thoughts from Coach Wooden's Library

Prophecy and speaking in unknown languages and special knowledge will become useless. But love will last forever! Now our knowledge is partial and incomplete, and even the gift of prophecy reveals only part of the whole picture! But when the time of perfection comes, these partial things will become useless.

When I was a child, I spoke and thought and reasoned as a child. But when I grew up, I put away childish things. Now we see things imperfectly, like puzzling reflections in a mirror, but then we will see everything with perfect clarity. All that I know now is partial and incomplete, but then I will know everything completely, just as God now knows me completely.

Three things will last forever—faith, hope, and love—and the greatest of these is love.

1 Corinthians 13