HOW DO YOU CHOOSE YOUR FRIENDS?
You are the average of the five people you spend the most time with. - Jim Rohn
The selection of who we spend time with is an important one.
Friendship is built on enjoying each other's company as a result of common interests, being able to help each other and having a sense of mutual admiration. The true friend wishes good to their friend for their friend's sake with no condition of benefit to themselves.
A friend is one who walks in when others walk out. - Walter Winchell
Wilferd Peterson described the first step in friendship this way:
The first step in the art of friendship is to be a friend; then making friends takes care of itself. To be a friend a person should start by being friends with themselves, by being true to their highest and best and by aligning themselves with the enduring values of human life that make for growth and progress.
The opportunity to make the right kind of friends with mutual interests will most likely occur if we engage in group activities with like-minded good people.
Coach Wooden often attended a weeklong summertime basketball coaches retreat with his wife and one of his grandchildren, sponsored by the Fellowship of Christian Athletes. This was a great place to meet new friends.
As parents, we put our children in the best environment to choose the right kind of friends by having them participate on teams or in groups that are conducted in a positive environment where good values are emphasized. I believe this is more important than how good the team is or the technical expertise of the coach.
Coach Wooden wrote an essay entitled Selecting the Squad. His advice on the character traits to look for in a potential basketball player is also good advice on the character traits to look for in a potential friend.
Coach's advice was to select players who were industrious, had fight, determination, courage and desire, were enthusiastic and possessed an attitude of cooperation with a proper team attitude. Coach also felt self-control and alertness were important.
Coach added four other specific recommendations in the selection process:
Give every boy a fair chance and every opportunity he earns.
Consider team spirit and morale.
Be alert to spot the good competitors and the poor ones.
Be alert for potential troublemakers and get rid of them.
If we used this advice when selecting our friends we would be surrounded by a team of great people.
How do you choose your friends?
Don't walk in front of me; I may not follow. Don't walk behind me; I may not lead. Just walk beside me and be my friend. - Albert Camus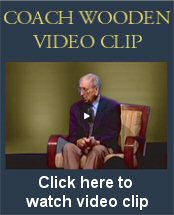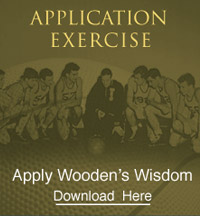 COACH'S
Favorite Poetry
AND PROSE
Some Favorite Thoughts from Coach Wooden's Library

Praise a person for what they do well, then gradually help them with their shortcomings. That method will work in an office, in a factory, in one's home, with wife, children, parents with almost anyone in the world.

Dale Carnegie


Your friend is the person who knows all about you, and still likes you.

Elbert Hubbard


Peace and rest at length have come
All the day's long toil is past,
And each heart is whispering, 'Home,
Home at last.

Thomas Hood


Don't bear grudges. Don't be afraid to give in when there is little or nothing at stake. Its' a little person who takes pride in their stubbornness, it's the person with the big nature who is willing to shake hands and say it was their fault and offer to start over.

Dale Carnegie